World
Politics
China's 20th Communist Party Congress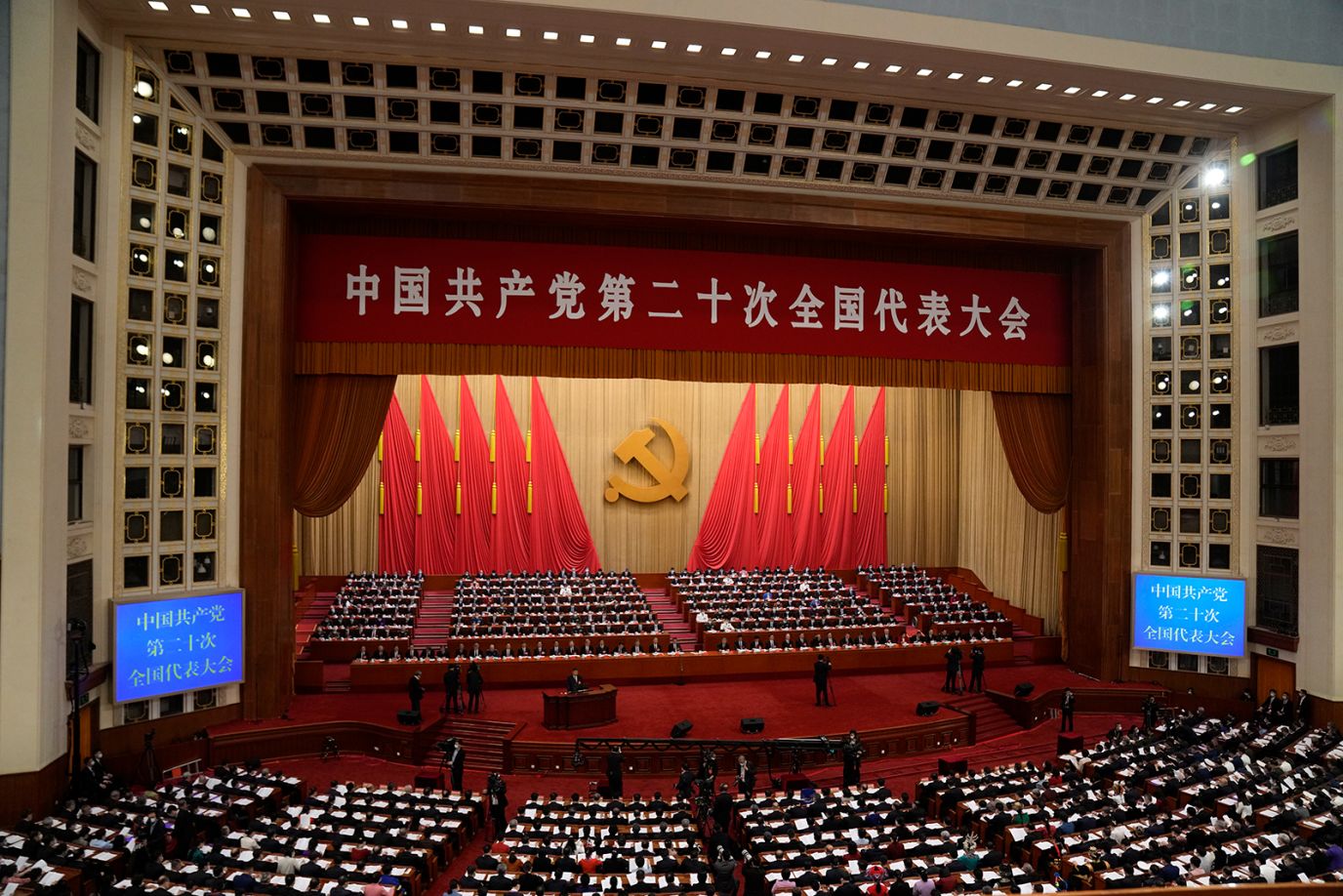 Members of China's ruling Communist Party are meeting for the 20th Party Congress, a leadership reshuffle that happens twice a decade.
In recent years, these meetings have seen a streamlined transfer of power: the convention is for the top party leader, having completed two five-year terms, to pass the baton to a carefully chosen successor. But this year, Xi Jinping is expected to smash that precedent, taking on a third term as general secretary of the party and pitching China into a new era of strongman rule and uncertainty over when or how the country would see another leader.
As a result, the 20th Party Congress is among the most consequential and closely watched party meetings in decades, and it will reveal much about the direction of the world's second-largest economy for the next five years.
Gunmen kill 12 people in Mexico bar
Mexican authorities are searching for gunmen who killed at least 12 people and injured three more after opening fire in a bar in central Mexico on Saturday evening.
Gunshots were reported at the bar in the city of Irapuato in the central state of Guanajuato at close to 8 p.m. local time Saturday, the city's Secretary of Citizen Safety said in a statement.
Paramedics confirmed the deaths of six men and six women after arriving on scene, according to the statement. It is unclear who the victims are and how many gunmen were involved in the shooting.
A search operation for the attackers is underway with support from Guanajuato's Secretary for Public Safety as well as the state's prosecutor general's office, the Secretary of National Defense, and the National Guard.
This is the second mass shooting in less than a month in the state of Guanajuato, which has been convulsed in recent years by brutal turf wars between rival drug gangs, according to Reuters.
The state is a major manufacturing hub and production site for many of the world's top carmakers.
Biden says Pakistan may be 'one of the most dangerous nations in the world'
United States President Joe Biden said Pakistan may be "one of the most dangerous nations in the world" as the country has "nuclear weapons without any cohesion", it emerged on Saturday.
He made the remarks while addressing a Democratic congressional campaign committee reception on Thursday.
A transcript of the address, published on the White House's website, quoted Biden as saying: "… And what I think is maybe one of the most dangerous nations in the world: Pakistan. Nuclear weapons without any cohesion."
The US president's remarks were made in the context of the changing geopolitical situation globally.
He said the world was changing rapidly and countries were rethinking their alliances. "And the truth of the matter is — I genuinely believe this — that the world is looking to us. Not a joke. Even our enemies are looking to us to figure out how we figure this out, what we do."
There was a lot at stake, Biden said, emphasising that the US had the capacity to lead the world to a place it had never been before.
"Did any of you ever think you'd have a Russian leader, since the Cuban Missile Crisis, threatening the use of tactical nuclear weapons that would — could only kill three, four thousand people and be limited to make a point?
"Did anybody think we'd be in a situation where China is trying to figure out its role relative to Russia and relative to India and relative to Pakistan?"
Talking about his Chinese counterpart Xi Jinping, the US president termed him as a man who knew what he wanted but had an "enormous" array of problems.
Dar urges IMF, multilateral donors to offer greater policy support
Finance Minister Ishaq Dar on Sunday urged the International Monetary Fund (IMF) and multilateral donors to provide greater policy support.
He asked the IMF to tailor its response to the situation in Pakistan and similar countries by taking into consideration the serious economic, social and political challenges that they face amid climate-induced calamities, according to a press release issued by the finance ministry.
Dar made the remarks while addressing a meeting of Menap (Middle East, North Africa, Afghanistan, and Pakistan) ministers of finance and central bank governors with the IMF Managing Director Kristalina Georgieva.
During the meeting, Goergieva spoke about the challenges regional economies were facing, including those related to climate change, such as the destructive floods in Pakistan. She expressed sympathy with Pakistan and assured the country of the Fund's full support, the statement added.
For his part, Dar thanked the IMF official for her support and assured Pakistan's commitment to completing the ongoing programme. "[The] finance minister highlighted the humanitarian catastrophe and losses suffered by the country. Given the scale of disaster, he pleaded [for] more policy support for Pakistan."
Dar also welcomed new IMF instruments — Resilience and Sustainability Trust (RST) and Food Shock Window under Rapid Financing Instrument (RFI) — to support countries.
Economy
GLOBAL INDICES AS OF 16th October 2022
PAKISTAN
Politics
Pakistan to give well-thought-out response to Joe Biden's remarks: FO
Refusing to give immediate reaction to the US President Joe Biden's statement on Pakistan, the Foreign Office (FO) spokesman Asim Iftikhar said on Saturday that the official reaction would be given only after carefully examining contents of his speech.
They said it was hard to understand in which context Biden gave the statement.
They regretted that the USA had always been criticizing Pakistan's nuclear programme.
They disclosed that the FO officials were in a huddle in order to decide what should be the appropriate response to Biden's statement.
PM to visit flood-affected areas in Balochistan on Monday
Prime Minister Shehbaz Sharif is scheduled to visit flood-affected areas in Balochistan on Monday where he will review flood relief operations.
According to sources, Chief Minister Balochistan Mir Abdul Quddus Bezinjo and some senior federal minister will also accompany the Prime Minister during the visit.
Shehbaz Sharif will visit the areas devastated by recent monsoon rains and floods in Khuzdar. The Prime Minister will review flood relief activities in the area. PM Shehbaz will also meet flood affectees during the visit.
Pakistan lost over 176,153 acre crops due to floods: NFRCC
Over 1,76,153 acres of crops destroyed, 4,66,366 homes affected, and over 2,16,974 cattle have been reported dead amid flooding across the country, the National Flood Response Coordination Committee's (NFRCC) latest figures show.
According to the NFRCC, over 1,60,460 homes were partially affected while 1,17,356 were completely demolished amid the floods.
The committee issued province-wise data on damages caused by the floods across the country. The NFRCC has announced to coordinate with multiple institutions to form a low-cost rehabilitation program for affected people.
In Balochistan, over 3,90,201 homes have been affected while 124 people have lost their lives amid floods. 1,33,994 homes were completely demolished while 94,742 homes were partially damaged.
Crops on 1,57,954 acres have been affected, while 89,234 cattle were reported dead due to floods.
Gilgit Baltistan
In Gilgit Baltistan, 23 people were reported dead, and 8,479 homes were affected due to floods, the NFRCC told. At least 667 houses were completely demolished while 1126 suffered partial damage, it added.
Economy
AUTOMOBILE ASSEMBLER

SCRIP
LDCP
OPEN
HIGH
LOW
CURRENT
CHANGE
VOLUME
Al-Ghazi Tractors Limited.
346.96
346.00
346
343
343
 -3.96
2,200
Atlas Honda Limited.
335.00
339.00
339
335
339
 4
1,000
Dewan Farooque Motors Limited [ DEFAULTER SEGMENT ]
5.07
5.29
6.07
5.1
6.07
 1
3,716,000
Ghandhara Industries Ltd.
147.57
148.01
148.48
145
145.63
 -1.94
83,700
Ghandhara Nissan Ltd.
56.38
56.13
56.7
55.8
55.86
 -.52
103,500
Honda Atlas Cars (Pak) Ltd.
180.59
180.01
181.99
178
178.58
 -2.01
16,044
Indus Motor Company Ltd.
961.30
980.95
980.95
951
960.84
 -.46
1,104
Millat Tractors Limited.
831.56
832.01
839
832.01
837.71
 6.15
50,735
Pak Suzuki Motors Co Ltd.
175.51
175.00
176.95
174.31
175.29
 -.22
32,190
Sazgar Engineering Works Ltd.
61.00
62.50
62.5
60.7
61.24
 .24
65,000
AUTOMOBILE PARTS & ACCESSORIES

SCRIP
LDCP
OPEN
HIGH
LOW
CURRENT
CHANGE
VOLUME
Agriautos Industries Co. Ltd.(XB)
95.13
95.13
95.4
93.11
94
 -1.13
3,600
Atlas Battery Ltd.
148.93
149.00
149
148
148.23
 -.7
5,300
Baluchistan Wheels Ltd.(XD)
74.65
76.85
76.85
76.85
76.85
 2.2
500
Exide Pakistan Ltd.
239.96
235.00
235
233.5
233.78
 -6.18
3,900
Ghandhara Tyre & Rubber Company Ltd.
34.02
34.20
34.7
34.15
34.63
 .61
45,500
Loads Limited.
8.86
9.00
9
8.85
8.89
 .03
85,000
Panther Tyres Limited
29.99
29.99
30.4
29.99
29.99
 0
229,500
CABLE & ELECTRICAL GOODS

SCRIP
LDCP
OPEN
HIGH
LOW
CURRENT
CHANGE
VOLUME
EMCO Industries Ltd.(XD)
23.50
23.48
23.48
22
22.75
 -.75
17,000
Pak Elektron Ltd.
16.68
16.79
16.89
16.5
16.51
 -.17
2,575,000
Pakistan Cables Ltd.
123.05
122.00
123
122
122
 -1.05
4,100
Siemens (Pak) Eng. Co. Ltd.
740.00
750.00
760
741
741
 1
250
WAVES Corporation Limited
11.60
11.52
11.75
11.5
11.53
 -.07
488,000
Waves Home Appliances Ltd.
10.54
11.00
11.29
10.4
10.68
 .14
77,000
CEMENT

SCRIP
LDCP
OPEN
HIGH
LOW
CURRENT
CHANGE
VOLUME
Attock Cement Pak Ltd. (XD)
85.99
85.00
85.35
84.05
84.70
 -1.29
7,000
Bestway Cement Limited.(XD)
130.05
130.10
130.1
130
130.05
 0
8,100
Cherat Cement Co. Ltd. (XD)
122.34
123.00
124.85
121.5
121.75
 -.59
198,622
D. G. Khan Cement Co. Ltd.(XD)
59.86
60.25
60.7
59.7
59.95
 .09
861,707
Dewan Cement Limited.
5.26
5.26
5.83
5.26
5.76
 .5
6,001,000
Fauji Cement Co Ltd.(XB)
14.24
14.20
14.4
14.14
14.30
 .06
759,500
Fecto Cement Ltd.
24.94
25.00
25.5
25
25.50
 .56
164,500
Flying Cement Company Ltd.
8.07
8.08
8.15
7.89
7.97
 -.1
1,139,500
Gharibwal Cement Ltd.
20.22
20.50
20.5
20.2
20.20
 -.02
10,500
Kohat Cement Co. Ltd.
159.22
159.99
162.5
159
159.08
 -.14
27,492
Lucky Cement Limited.
512.57
516.99
516.99
511.01
512.41
 -.16
206,757
Maple Leaf Cement Factory Ltd.
28.30
28.51
28.7
28.1
28.27
 -.03
1,222,837
Pioneer Cement Ltd.
72.44
73.50
73.75
71.32
71.56
 -.88
543,188
Power cement Limited
4.84
4.84
4.95
4.8
4.84
 0
463,000
Power cement Ltd. Preference Shares
6.00
5.50
5.5
5.5
5.50
 -.5
9,000
Safe Mix Concrete Ltd.
11.60
11.75
11.75
11.75
11.75
 .15
2,000
Thatta Cement Company Ltd.
14.04
14.10
14.48
13.71
14.28
 .24
229,000
CHEMICAL

SCRIP
LDCP
OPEN
HIGH
LOW
CURRENT
CHANGE
VOLUME
Agritech Limited
6.45
6.26
6.5
6.23
6.26
 -.19
352,000
Archroma Pakistan Limited.
539.00
539.00
539
539
539
 0
150
Bawany Air Products Ltd. [ DEFAULTER SEGMENT ]
10.94
10.05
11.25
10.05
10.48
 -.46
43,000
Berger Paints Pakistan Ltd.
77.85
78.50
80.36
77.85
79.05
 1.2
68,500
Bifo Industries Ltd.(XD)
61.22
60.75
61
60.65
61
 -.22
2,000
Buxly Paints Ltd.
97.65
98.95
99.94
95
96.92
 -.73
10,500
Colgate Palmolive (Pak) Ltd.(XB)
2,086.00
2089.22
2098.8
2086.3
2086.30
 .3
80
Data Agro Limited
16.50
16.90
16.9
16.9
16.90
 .4
500
Descon Oxychem Ltd.(XD)
21.48
22.00
23.09
22
23.09
 1.61
818,000
DYNEA Pak.(XD)
177.50
177.50
177.5
177.5
177.50
 0
100
Engro Polymer & Chemical Pref.Shares
11.65
12.20
12.2
12
12
 .35
42,000
Engro Polymer & Chemicals Ltd.
58.22
58.35
58.48
57.8
57.97
 -.25
848,358
G3 Technologies Limited
9.04
9.02
9.77
9.02
9.52
 .48
22,522,500
G3 Technologies Limited-Class-B
1.87
1.71
2.15
1.47
1.72
 -.15
10,378,000
Ghani Global Holdings Limited.
17.10
17.30
17.62
17
17.06
 -.04
13,994,774
ICI Pakistan Limited.
663.01
663.01
669.48
662.1
664.79
 1.78
950
Ittehad Chemical Ltd.
28.40
29.85
29.85
28.52
28.96
 .56
5,500
Leiner Pak Gelantine Limited.
16.26
15.05
15.05
15.05
15.05
 -1.21
1,000
Lotte Chemical Pakistan Ltd.
31.56
31.51
32.87
31.21
32.09
 .53
6,505,261
Nimir Resins Limited.
15.22
15.69
16.36
15.35
15.49
 .27
4,323,500
Pakistan Oxygen Limited.
132.17
131.60
136
131
133.05
 .88
8,000
Sitara Chemicals.(XD)
256.25
252.03
252.03
250
250
 -6.25
2,600
Sitara Peroxide Limited
15.09
16.22
16.22
16.22
16.22
 1.13
388,000
CLOSE – END MUTUAL FUND

SCRIP
LDCP
OPEN
HIGH
LOW
CURRENT
CHANGE
VOLUME
HBL Investment Fund
1.90
1.91
1.91
1.91
1.91
 .01
6,000
COMMERCIAL BANKS

SCRIP
LDCP
OPEN
HIGH
LOW
CURRENT
CHANGE
VOLUME
Allied Bank Ltd.
64.50
64.00
64
63.1
63.38
 -1.12
18,500
Askari Bank Limited.
17.53
17.75
17.75
17.52
17.54
 .01
14,500
Bank Al-Habib Ltd.
54.50
53.85
54.99
53
54.18
 -.32
143,502
Bank Alfalah Ltd.
31.00
31.40
31.55
31
31.50
 .5
162,038
Bank Of Punjab.
5.40
5.47
5.5
5.4
5.40
 0
471,000
Bankislami Pakistan Ltd.
10.88
10.99
11.05
10.8
10.90
 .02
78,500
Faysal Bank Limited.
26.00
25.92
26.15
25.8
25.98
 -.02
52,500
Habib Bank Limited.
71.53
72.00
72.5
70.61
71.55
 .02
2,259,053
Habib Metropolitan Bank Limited.
35.99
34.50
36.03
34.5
35.01
 -.98
2,105,500
MCB Bank Limited.
116.29
116.98
117.25
116.25
117.01
 .72
139,756
Meezan Bank Limited.
108.96
109.01
109.55
108
108.78
 -.18
630,758
National Bank Of Pakistan.(XD)
25.61
25.90
25.93
25.5
25.51
 -.1
36,500
Samba Bank Limited.
6.10
6.97
6.97
6.97
6.97
 .87
500
Silk Bank Limited.
1.13
1.14
1.14
1.09
1.11
 -.02
4,471,500
Soneri Bank Ltd.
9.80
9.70
10.2
9.7
10.02
 .22
1,550,000
Standard Chartered Bank Pak Ltd.
20.26
19.95
20.2
19.95
20.20
 -.06
1,000
Summit Bank Limited.
1.48
1.50
1.54
1.48
1.53
 .05
190,500
The Bank of Khyber.
12.80
12.13
12.7
12.13
12.58
 -.22
8,500
United Bank Ltd.
112.58
113.88
113.88
112.31
112.75
 .17
1,047,669
ENGINEERING

SCRIP
LDCP
OPEN
HIGH
LOW
CURRENT
CHANGE
VOLUME
Ados Pakistan Limited.
30.12
30.00
31
29
29.01
 -1.11
8,358
Agha Steel Industries Ltd.
15.57
15.57
15.94
15.49
15.50
 -.07
44,500
Aisha Steel Mills Limited.
10.00
10.10
10.14
9.91
9.95
 -.05
262,772
Amreli Steels Limited.
27.01
27.38
27.38
26.7
26.84
 -.17
123,093
Beco Steel Limited
13.20
13.15
13.39
12.89
13.05
 -.15
184,500
Bolan Casting Ltd.
41.75
42.30
42.8
41.85
41.85
 .1
6,000
Crescent Steel & Allied Product.
39.32
39.50
39.84
39
39.14
 -.18
189,000
Dadex Eternit Ltd.
76.72
71.01
71.01
70.97
70.97
 -5.75
6,000
Dost Steels Ltd. [ DEFAULTER SEGMENT ]
5.90
5.82
5.89
5.6
5.69
 -.21
423,500
Huffaz Seamless Pipe Industries. [ DEFAULTER SEGMENT ]
9.50
9.11
9.19
9
9.19
 -.31
6,000
International Industries Ltd.
101.50
102.00
102
100
100.62
 -.88
55,132
International Steels Limited.
54.43
54.75
55
54
54.61
 .18
111,772
Ittefaq Iron Industries Limited.
7.15
7.15
7.15
6.95
6.96
 -.19
625,500
KSB Pumps Co Ltd.
102.70
103.50
103.5
101.2
101.60
 -1.1
3,500
Mughal Iron & Steels Ind Ltd.
69.86
70.06
70.49
68
68.47
 -1.39
228,333
Pakistan Engineering Co Ltd. [ DEFAULTER SEGMENT ]
252.67
271.00
271
245.25
253.83
 1.16
300
EXCHANGE TRADED FUNDS

SCRIP
LDCP
OPEN
HIGH
LOW
CURRENT
CHANGE
VOLUME
JS Momentum Factor ETF
8.63
8.80
8.8
8.8
8.80
 .17
30,500
Meezan Pakistan ETF
8.18
8.14
8.18
8.11
8.12
 -.06
45,500
FERTILIZER

SCRIP
LDCP
OPEN
HIGH
LOW
CURRENT
CHANGE
VOLUME
Arif Habib Corporation Ltd.
35.35
35.00
35.17
34.5
35.17
 -.18
11,000
Engro Corporation Limited.
237.12
237.95
238
236.8
237.43
 .31
119,409
Engro Fertilizers Limited.
81.18
81.00
81.5
80.6
80.75
 -.43
621,314
Fatima Fertilizer Co Ltd.
38.01
37.76
38.5
37
38.19
 .18
37,904
Fauji Fertilizer Bin Qasim Ltd.
19.69
19.65
19.75
19.5
19.59
 -.1
104,000
Fauji Fertilizer Co. Ltd.
102.08
102.09
102.42
101.8
101.98
 -.1
371,398
FOOD & PERSONAL CARE PRODUCTS

SCRIP
LDCP
OPEN
HIGH
LOW
CURRENT
CHANGE
VOLUME
Al-Shaheer Corporation.
13.17
13.39
13.6
12.95
13.08
 -.09
1,289,232
At-Tahur Ltd.
22.52
22.51
22.52
22.5
22.50
 -.02
5,000
Bunnys Limited
22.34
22.45
22.99
22
22.65
 .31
67,000
Clover Pakistan Limited.
20.20
20.45
20.5
20
20.05
 -.15
35,500
Fauji Foods Limited.
6.30
6.33
6.38
6.22
6.25
 -.05
1,100,222
Frieslandcampina Engro Pakistan Ltd.
73.14
73.90
74.3
72
72.10
 -1.04
81,221
Gillette Pakistan Limited
131.06
126.00
126
123.5
124.50
 -6.56
600
Matco Foods Limited.
33.88
33.90
33.9
33.25
33.41
 -.47
16,500
Mitchells Fruit Farms Ltd.
87.74
88.35
90.5
87.7
87.99
 .25
69,000
Murree Brewery Company Ltd.
399.99
400.00
404.9
400
404.90
 4.91
200
National Foods Ltd.(XD)
127.67
127.60
128.8
126.5
127.67
 0
23,000
Nestle Pakistan Ltd.
5,980.00
6000.00
6000
6000
6000
 20
40
Quice Food Industries Ltd.
3.81
3.98
3.98
3.8
3.81
 0
142,000
Shezan International Ltd.(XD)
158.21
155.02
159
155.01
159
 .79
3,000
Shield Corporation Ltd.
259.42
250.01
250.01
250.01
250.01
 -9.41
100
The Organic Meat Company Ltd.
26.50
27.50
27.5
25.45
25.61
 -.89
1,695,500
Treet Corporation Ltd.
24.47
24.63
24.65
24.25
24.35
 -.12
421,000
Unity Foods Limited.
23.08
23.12
23.33
22.55
22.69
 -.39
3,035,373
ZIL Limited.
125.00
125.00
134.35
124
133.45
 8.45
5,500
FUTURE CONTRACTS

SCRIP
LDCP
OPEN
HIGH
LOW
CURRENT
CHANGE
VOLUME
AGHA-OCT
15.69
15.60
15.6
15.6
15.60
 -.09
1,000
AGL-OCT
6.50
6.30
6.3
6.3
6.30
 -.2
6,500
AIRLINK-OCT
37.46
37.50
37.5
37.5
37.50
 .04
1,000
ASL-OCT
10.10
10.00
10.1
10
10
 -.1
3,000
ASC-OCT
13.24
13.45
13.58
13
13.16
 -.08
243,500
ASTL-OCT
27.11
27.01
27.01
26.91
26.96
 -.15
1,000
ATRL-OCTB
167.28
168.00
168.4
162.5
163.18
 -4.1
1,120,500
AVN-OCT
83.62
83.90
84.2
81.8
82.75
 -.87
2,599,500
ANL-OCT
9.84
9.90
10.25
9.9
10.03
 .19
484,000
BOP-OCT
5.45
5.75
5.75
5.45
5.52
 .07
2,000
CHCC-OCTB
123.02
123.75
124.99
122
122.14
 -.88
32,500
CPHL-OCT
30.99
30.90
31.05
30.85
30.94
 -.05
8,000
CNERGY-OCT
5.10
5.10
5.11
5
5.04
 -.06
715,000
DGKC-OCTB
60.28
60.51
61.1
60.1
60.22
 -.06
552,500
DCL-OCT
5.35
5.39
5.75
5.39
5.61
 .26
95,000
ENGRO-OCTB
239.00
238.80
238.8
238.5
238.50
 -.5
2,000
EFERT-OCT
81.55
81.50
81.85
81.3
81.39
 -.16
35,500
EPCL-OCTB
58.50
58.71
58.71
57.7
58.04
 -.46
221,000
EPQL-OCTB
24.60
26.44
26.44
25.85
26.20
 1.6
72,500
FCCL-OCTB
14.34
14.40
14.45
14.25
14.40
 .06
589,000
FFBL-OCT
19.55
19.73
19.73
19.73
19.73
 .18
1,000
FFC-OCT
103.00
102.29
102.29
102.29
102.29
 -.71
200,500
FFL-OCT
6.38
6.38
6.4
6.32
6.35
 -.03
30,500
FLYNG-OCT
8.18
8.15
8.18
7.8
8.05
 -.13
428,000
GTECH-OCTB
9.21
8.60
9.87
8.6
9.57
 .36
6,134,000
GHNI-OCT
148.89
148.00
149.15
146.25
146.50
 -2.39
44,500
GGGL-OCT
10.30
10.49
10.64
10.2
10.22
 -.08
55,500
GGL-OCT
17.23
17.45
17.74
17.1
17.17
 -.06
4,536,000
GATM-OCT
29.50
29.30
29.5
29.26
29.26
 -.24
11,000
HBL-OCT
71.98
71.76
72.98
71.52
72.27
 .29
50,500
HUBC-OCTB
63.75
64.00
64
63.5
63.97
 .22
32,500
HUMNL-OCT
6.33
6.35
6.35
6.3
6.30
 -.03
26,000
INIL-OCTB
102.50
102.50
102.5
100.35
101.42
 -1.08
15,500
ISL-OCTB
55.00
55.50
55.5
54.51
55
 0
25,500
KEL-OCT
3.00
3.01
3.03
2.94
2.95
 -.05
521,500
KAPCO-OCTB
27.60
27.75
27.8
27.6
27.72
 .12
54,500
LOADS-OCT
8.91
9.05
9.05
8.95
8.95
 .04
44,000
LOTCHEM-OCTB
31.74
31.66
33
31.4
32.28
 .54
4,852,500
LUCK-OCT
515.69
518.00
521
514
514.75
 -.94
77,000
MLCF-OCT
28.51
28.66
28.82
28.26
28.41
 -.1
421,500
MEBL-OCTB
110.00
110.00
110
109.6
109.70
 -.3
13,500
MUGHAL-OCT
69.69
70.01
70.3
68.5
68.63
 -1.06
22,000
NRL-OCTB
240.83
241.70
243.38
237
237.79
 -3.04
431,000
NETSOL-DEC
119.85
117.00
117
117
117
 -2.85
2,000
NETSOL-OCT
116.13
116.99
121
113
118.64
 2.51
5,711,000
NCL-OCTB
32.59
32.70
32.7
32.1
32.11
 -.48
221,500
NCPL-OCTB
14.40
14.50
14.5
14.5
14.50
 .1
2,000
NML-OCTB
64.87
64.90
66
64.7
64.93
 .06
94,000
NPL-OCTB
19.40
19.49
19.5
19.49
19.49
 .09
2,000
OGDC-OCTB
74.67
74.70
74.74
74
74.04
 -.63
915,000
PAEL-OCT
16.83
16.93
17
16.55
16.62
 -.21
786,500
PIAA-OCT
4.17
4.25
4.25
4.25
4.25
 .08
4,500
PSMC-OCT
176.50
176.01
177
175.5
176.69
 .19
10,000
PIBTL-OCT
5.54
5.46
5.7
5.46
5.58
 .04
416,000
POL-OCTB
370.19
369.96
369.96
366
368.61
 -1.58
1,500
PPL-OCTB
59.51
59.90
59.9
58.87
59.01
 -.5
124,000
PRL-NOV
18.39
18.39
18.39
18.39
18.39
 0
500
PRL-OCT
18.10
18.20
18.2
17.68
17.72
 -.38
1,903,000
PSO-OCTB
159.84
160.00
160.5
158.6
159.41
 -.43
172,500
PTC-OCT
7.02
7.06
7.06
6.92
6.94
 -.08
10,500
PIOC-OCT
73.00
73.80
74.1
71.8
72.06
 -.94
458,500
POWER-OCT
4.88
4.85
4.85
4.85
4.85
 -.03
37,000
SHEL-OCT
137.20
137.37
139.4
136
136.46
 -.74
95,000
SNGP-OCTB
32.56
32.40
32.49
31.6
32
 -.56
93,500
SMBL-NOV
1.51
2.30
2.3
1.4
1.40
 -.11
60,000
SYS-OCT
447.35
448.00
448
437.02
438.70
 -8.65
130,500
TGL-OCTB
90.55
90.55
90.55
90.55
90.55
 0
500
TELE-OCT
11.58
11.58
11.67
11.27
11.34
 -.24
8,026,000
TELE-OCTB
10.87
10.85
10.98
10.61
10.65
 -.22
6,549,500
TELE-NOVB
11.60
11.50
11.5
11.5
11.50
 -.1
8,000
SEARL-OCT
103.99
103.52
104.3
103
103.42
 -.57
273,500
SEARL-OCTB
83.95
84.00
84.25
83.15
83.57
 -.38
221,500
TPL-OCT
8.15
8.40
8.4
8.1
8.23
 .08
170,000
TPLP-DEC
20.55
21.40
21.4
21.4
21.40
 .85
3,500
TPLP-OCTB
19.86
19.88
19.96
19.35
19.45
 -.41
1,206,500
TPLP-NOVB
19.99
19.50
19.5
19.5
19.50
 -.49
4,000
TREET-OCT
24.73
24.57
25
24.41
24.47
 -.26
176,500
TRG-DEC
130.95
137.50
138
127.05
127.05
 -3.9
11,500
TRG-OCT
129.58
130.50
136.2
123
126.45
 -3.13
23,317,500
TRG-NOV
130.42
130.50
136.99
125
127.68
 -2.74
239,500
UNITY-OCT
23.22
23.35
23.45
22.65
22.79
 -.43
2,964,500
WAVES-OCTB
11.70
0.0
11.7
11.7
11.7
 0
229,500
WTL-OCT
1.54
1.57
1.69
1.56
1.61
 .07
11,359,000
YOUW-OCT
5.00
5.18
5.18
5.17
5.18
 .18
15,000
GLASS & CERAMICS

SCRIP
LDCP
OPEN
HIGH
LOW
CURRENT
CHANGE
VOLUME
Balochistan Glass Ltd.
8.87
8.81
9
8.7
8.78
 -.09
499,500
Ghani Glass Ltd.
40.27
40.15
40.5
40.13
40.49
 .22
86,000
Ghani Global Glass Limited.
10.19
10.32
10.52
10.15
10.17
 -.02
1,328,500
Ghani Value Glass Limited.
73.10
73.15
73.15
72
72.05
 -1.05
14,500
Shabbir Tiles and Ceramics Limited.(XD)
13.41
13.50
13.52
13
13.07
 -.34
117,500
Tariq Glass.
113.94
114.50
114.83
113.1
113.28
 -.66
132,834
INSURANCE

SCRIP
LDCP
OPEN
HIGH
LOW
CURRENT
CHANGE
VOLUME
Adamjee Insurance Co. Ltd.
30.23
29.53
29.75
29.5
29.75
 -.48
34,000
Askari Gen Insurance Co.
16.45
16.73
16.73
16.7
16.70
 .25
6,500
Cresent Star Insurance Ltd.
1.70
1.93
1.93
1.67
1.72
 .02
19,000
Habib Insurance Co Ltd.
5.60
5.60
5.6
5.6
5.60
 0
500
IGI Holdings Limited.
95.49
95.00
95
94.99
95
 -.49
11,600
Jubilee General Insurance Co.Ltd.
28.00
28.00
28
28
28
 0
3,500
Pakistan Reinsurance Comp.
7.40
7.50
7.58
7.37
7.42
 .02
307,500
PICIC Insurance Ltd. [ DEFAULTER SEGMENT ]
1.01
1.10
1.1
1.05
1.05
 .04
2,000
Reliance Insurance.
6.40
6.01
6.99
6.01
6.99
 .59
32,500
United Insurance Company.
7.50
7.41
7.41
7.39
7.41
 -.09
6,000
Universal Insurance Company Ltd.
3.80
3.80
4.79
3.8
4
 .2
23,500
INV. BANKS / INV. COS. / SECURITIES COS.

SCRIP
LDCP
OPEN
HIGH
LOW
CURRENT
CHANGE
VOLUME
AKD Securities Ltd.
22.01
21.75
22.73
21.75
22.73
 .72
1,500
Arif Habib Limited.(XD)
38.20
38.12
38.5
38.02
38.08
 -.12
22,500
Cyan Limited.
23.40
23.50
24.48
23.5
23.54
 .14
5,000
Dawood Equities Ltd.
5.50
5.60
5.62
5.55
5.57
 .07
6,500
Dawood Hercules Corporation Ltd.
92.50
91.50
91.5
91.1
91.10
 -1.4
4,000
EFG Hermes Pakistan Ltd.
16.97
15.80
16.98
15.8
16.34
 -.63
3,000
Escorts Investment Bank Ltd.
4.79
5.34
5.34
5.34
5.34
 .55
1,000
First Capital Sec.Corp. Ltd.
1.41
1.49
1.5
1.42
1.42
 .01
6,000
First Credit & Investment Bank Ltd.
6.00
6.50
6.5
6.5
6.50
 .5
500
First Dawood Investment Bank Ltd.
2.04
2.02
2.1
1.91
2
 -.04
167,500
First National Equities Limited.
4.85
4.84
5.2
4.8
5.11
 .26
1,019,500
Invest Capital Investment Bank Ltd.
1.49
1.50
1.5
1.41
1.44
 -.05
16,500
Jahangir Siddiqui & Co. (Pref Sh.)
8.26
8.26
8.26
8.25
8.25
 -.01
166,000
Jahangir Siddiqui & Company Ltd.
13.09
13.00
13.1
12.8
12.88
 -.21
181,500
MCB-Arif Habib Savings & Invest Ltd.(XD)
21.51
21.51
21.51
21.51
21.51
 0
500
Next Capital Limited.(XB)
6.59
6.58
6.64
6.25
6.45
 -.14
9,000
OLP Financial Services Pakistan Ltd.
23.00
23.10
23.1
22.9
22.90
 -.1
80,000
Pakistan Stock Exchange Limited.
9.42
9.55
10
9.55
9.88
 .46
762,500
Pervez Ahmed Consultancy Services Ltd. [ DEFAULTER SEGMENT ]
0.91
0.90
.9
.85
0.87
 -.04
84,000
LEASING COMPANIES

SCRIP
LDCP
OPEN
HIGH
LOW
CURRENT
CHANGE
VOLUME
Grays Leasing Ltd.
2.85
3.65
3.85
3.2
3.76
 .91
14,500
LEATHER & TANNERIES

SCRIP
LDCP
OPEN
HIGH
LOW
CURRENT
CHANGE
VOLUME
Service Global Footwear Limited.
36.80
37.17
37.17
36.63
36.74
 -.06
14,500
Service Industries.
353.22
355.98
355.98
342.28
353
 -.22
600
MISCELLANEOUS

SCRIP
LDCP
OPEN
HIGH
LOW
CURRENT
CHANGE
VOLUME
AKD Hospitality Limited
147.35
145.50
149.89
145.5
149.89
 2.54
900
Al-Khair Gadoon Ltd.
25.57
27.00
27
27
27
 1.43
500
ECOPAK Limited.(XB)
25.00
24.40
25.94
24.4
25.41
 .41
3,000
Gammon Pak.
6.06
6.00
6.24
6
6.24
 .18
1,500
GOC (PAK) Limited.
40.00
42.99
42.99
40
40
 0
5,000
MACPAC Films Limited.(XD)
15.13
15.20
15.5
14.55
14.73
 -.4
53,000
MetaTech Health Limited
13.41
13.49
13.58
13.25
13.32
 -.09
40,000
Olympia Mills Limited.
17.53
18.80
18.84
16.51
16.51
 -1.02
4,000
Pakistan Aluminium Beverage Cans Ltd
42.81
43.10
43.23
42.51
42.55
 -.26
16,500
Pakistan Hotels Developers Ltd.
90.00
91.00
91
89
89
 -1
2,300
Shifa Int. Hospital Ltd.
150.00
154.68
154.69
142
145.06
 -4.94
6,000
Siddiqsons Tin Plate Ltd.
8.59
8.75
8.75
8.6
8.67
 .08
212,000
Synthetic Products Ent. Ltd.
13.94
14.00
14.03
13.86
14.01
 .07
73,000
United Brands Limited.
14.30
13.90
14.4
13.9
14.40
 .1
1,000
United Distributors Pakistan.
34.40
36.00
36.75
36
36.75
 2.35
2,500
MODARABAS

SCRIP
LDCP
OPEN
HIGH
LOW
CURRENT
CHANGE
VOLUME
Allied Rental Modaraba.
25.02
0.0
25.02
25.02
25.02
 0
160,500
B.R.R. Guardian Modaraba.
13.10
13.40
13.4
12.1
12.18
 -.92
50,000
First Al-Noor Mod.
3.99
3.51
3.97
3.5
3.74
 -.25
2,000
First Elite Capital Mod.
3.09
3.15
3.15
3.15
3.15
 .06
500
First Fidelity Leasing Mod.
2.25
2.25
2.25
2.24
2.24
 -.01
1,000
First Habib Mod.(XD)
7.98
8.24
8.25
8.04
8.07
 .09
9,000
First Prudential Mod.
1.78
1.61
1.7
1.6
1.70
 -.08
8,500
First Punjab Mod.
1.67
1.80
1.8
1.8
1.80
 .13
11,000
First Treet Manufacturing Modaraba.
10.37
9.37
9.37
9.37
9.37
 -1
6,000
First UDL Mod.
7.36
7.50
7.5
7.4
7.49
 .13
56,000
Habib Metro Modaraba.(XD)
6.15
0.0
6.15
6.15
6.15
 0
1,000
KASB Modaraba.
1.50
1.54
1.57
1.5
1.53
 .03
15,000
Modarba Al-Mali.
5.82
5.81
5.84
5.8
5.80
 -.02
9,000
OLP Modaraba.
15.75
15.90
15.9
15.9
15.90
 .15
1,000
Popular Islamic Madaraba
8.40
8.10
9.34
7.8
8.51
 .11
4,500
Sindh Modaraba.
8.50
8.46
8.46
8.45
8.46
 -.04
8,500
Trust Mod.
1.80
1.85
2
1.85
1.95
 .15
6,500
Unicap Modaraba.
1.97
2.00
2.2
2
2.20
 .23
1,500
OIL & GAS EXPLORATION COMPANIES

SCRIP
LDCP
OPEN
HIGH
LOW
CURRENT
CHANGE
VOLUME
Mari Petroleum Company Ltd.
1,602.43
1616.00
1622
1605
1611.26
 8.83
12,635
Oil & Gas Development Company Ltd.(XD)
74.03
74.60
74.7
73.5
73.91
 -.12
2,147,880
Pakistan Oilfields Limited.
364.01
364.00
367.5
360.5
363.88
 -.13
68,988
Pakistan Petroleum Limited.
59.51
59.98
59.98
58.9
58.99
 -.52
554,895
OIL & GAS MARKETING COMPANIES

SCRIP
LDCP
OPEN
HIGH
LOW
CURRENT
CHANGE
VOLUME
Attock Petroleum Limited.
279.80
280.00
280.65
277.25
278.60
 -1.2
29,698
Burshane LPG (Pakistan) Limited.
17.85
18.00
18
18
18
 .15
500
Hascol Petroleum Ltd. [ DEFAULTER SEGMENT ]
6.38
6.42
6.64
6.3
6.47
 .09
9,156,000
Hi-Tech Lubricants Limited.
39.40
39.50
39.68
39.01
39.11
 -.29
51,500
Oilboy Energy Limited.
7.11
7.04
7.15
7
7
 -.11
11,000
Pakistan State Oil Co Ltd.
168.37
169.20
169.21
167
168.20
 -.17
864,694
Shell Pakistan Ltd.
136.43
136.99
138.5
135.05
135.69
 -.74
693,000
Sui Northern Gas Pipe Line Ltd.(XD)
32.25
32.30
32.44
31.7
31.78
 -.47
566,412
Sui Southern Gas Co Ltd.
9.79
9.84
9.84
9.58
9.60
 -.19
377,500
PAPER & BOARD

SCRIP
LDCP
OPEN
HIGH
LOW
CURRENT
CHANGE
VOLUME
Century Paper & Board Mills.(XB)
68.00
68.15
68.15
67
67.03
 -.97
21,000
Cherat Packaging Limited.(XD)(XB)
103.88
104.00
107.25
103.31
103.85
 -.03
12,200
Merit Packaging Ltd.
10.75
10.90
11
10.9
10.92
 .17
110,000
Packages Ltd.
397.50
395.01
400
392
399.11
 1.61
3,600
Roshan Packages Limited.
14.46
14.84
14.84
14.2
14.22
 -.24
81,500
Security Papers Ltd.(XD)
103.96
107.19
111.75
106.25
109.55
 5.59
21,000
PHARMACEUTICALS

SCRIP
LDCP
OPEN
HIGH
LOW
CURRENT
CHANGE
VOLUME
Abbott Laboratories Pak Ltd.
587.46
575.10
588.8
575.1
585.98
 -1.48
2,650
AGP Limited.
81.38
82.55
82.55
80.55
81.01
 -.37
2,277
Citi Pharma Limited
30.73
30.80
31
30.4
30.49
 -.24
750,691
Ferozsons Laboratories Ltd.
200.27
200.50
200.5
199
199.46
 -.81
17,200
Glaxo SmithKline Healthcare Pak Ltd.
205.95
206.20
207
205.55
205.55
 -.4
3,900
Glaxo SmithKline Pakistan Ltd.
112.16
112.00
112
110.11
111.95
 -.21
11,800
Highnoon Laboratories Ltd.
535.00
530.00
539.9
528.5
536.10
 1.1
3,350
IBL HealthCare Limited.
48.00
48.00
48.5
47.5
48.17
 .17
4,000
Macter International Limited.(XD)
84.50
86.00
86
84.5
84.50
 0
100
Otsuka Pakistan Ltd.
140.50
135.00
135.01
135
135.01
 -5.49
3,000
Sanofi-Aventis Pakistan Ltd.
1,054.50
1095.00
1133.58
977
1128
 73.5
1,150
The Searle Company Ltd.
103.82
104.00
104.45
103.2
103.65
 -.17
413,160
POWER GENERATION & DISTRIBUTION

SCRIP
LDCP
OPEN
HIGH
LOW
CURRENT
CHANGE
VOLUME
Altern Energy Ltd.
18.42
18.31
18.31
18.1
18.25
 -.17
5,500
Engro Powergen Qadirpur Ltd.
24.88
26.70
26.7
25.8
26.03
 1.15
2,449,000
Hub Power Company Limited.(XD)
63.35
63.80
63.85
63.05
63.58
 .23
1,425,086
K-Electric Limited.
2.99
2.98
3
2.91
2.92
 -.07
8,991,500
Kohinoor Energy Ltd.
34.24
34.01
34.3
34
34.20
 -.04
18,500
Kohinoor Power Co Ltd.
3.66
4.00
4
3.66
3.66
 0
10,500
Kot Addu Power Company.
31.30
31.45
31.69
31.3
31.64
 .34
1,794,723
LALPIR Power Limited.
13.30
13.25
13.4
13.15
13.22
 -.08
50,500
Nishat Chunian Power Ltd.
14.26
14.30
14.3
13.91
14.01
 -.25
977,500
Nishat Power Limited.(XD)
19.30
19.50
19.5
19.15
19.36
 .06
450,010
Pakgen Power Limited.
19.25
19.25
19.25
19.25
19.25
 0
3,500
Saif Power Ltd.
18.34
18.48
19.6
18.4
19.28
 .94
723,000
Tri -Star Power Ltd.
3.97
4.00
4.42
3.96
4.34
 .37
134,000
PROPERTY

SCRIP
LDCP
OPEN
HIGH
LOW
CURRENT
CHANGE
VOLUME
Javedan Corporation Ltd.
52.03
52.26
52.26
52.26
52.26
 .23
1,000
Pace (Pakistan) Ltd.
2.95
2.91
2.97
2.87
2.94
 -.01
340,500
TPL Properties Limited.
21.62
21.71
21.84
21.15
21.22
 -.4
4,045,407
REAL ESTATE INVESTMENT TRUST

SCRIP
LDCP
OPEN
HIGH
LOW
CURRENT
CHANGE
VOLUME
Dolmen City REIT.
13.79
13.79
14.02
13.7
13.96
 .17
73,000
REFINERY

SCRIP
LDCP
OPEN
HIGH
LOW
CURRENT
CHANGE
VOLUME
Attock Refinery Limited.
166.10
166.75
167.5
161.8
162.30
 -3.8
1,382,171
Cnergyico PK Limited.
5.08
5.08
5.09
5
5.01
 -.07
2,379,504
National Refinary Ltd. (XD)
239.51
240.35
241.9
236.11
236.76
 -2.75
881,963
Pakistan Refinery Ltd.
17.98
18.08
18.11
17.56
17.62
 -.36
3,989,671
SUGAR & ALLIED INDUSTRIES

SCRIP
LDCP
OPEN
HIGH
LOW
CURRENT
CHANGE
VOLUME
Abdullah Shah Ghazi Sugar Mills Ltd.
8.00
7.70
7.99
7.51
7.77
 -.23
9,000
Al-Abbas Sugar Mills Ltd.
322.45
301.00
313.9
301
303.39
 -19.06
3,100
Al-Noor Sugar Mills Ltd.
61.40
0.0
61.4
61.4
61.40
 0
500
Dewan Sugar Mills Ltd. [ DEFAULTER SEGMENT ]
2.14
1.96
2.35
1.96
2.20
 .06
9,500
Faran Sugar Mills Ltd.
53.50
0.0
53.5
53.5
53.50
 0
20,000
Habib Rice Product Ltd.(XD)
35.85
35.00
35
35
35
 -.85
2,500
J. D. W. Sugar Mills Ltd.
387.27
416.31
416.31
416.31
416.31
 29.04
9,100
Jauharabad Sugar Mills Ltd.
14.26
14.50
14.5
13.75
13.91
 -.35
35,000
Mehran Sugar Mills Ltd.(XB)
35.60
34.80
35.5
34.8
35.50
 -.1
1,000
Sakrand Sugar Mills Ltd. [ DEFAULTER SEGMENT ]
8.93
9.04
9.04
9.04
9.04
 .11
500
Shahmurad Sugar Mills Ltd.
110.00
109.99
110
109.99
110
 0
1,500
Tariq Corporation Ltd.
13.00
12.98
12.98
12.98
12.98
 -.02
1,000
Thal Industries Corporation Ltd.
299.99
278.00
299.9
277.5
299.90
 -.09
400
SYNTHETIC & RAYON

SCRIP
LDCP
OPEN
HIGH
LOW
CURRENT
CHANGE
VOLUME
Gatron (Industries) Ltd.
325.10
349.48
349.48
339.99
349.48
 24.38
1,500
Image Pakistan Limited
14.13
14.10
14.3
14
14.05
 -.08
203,500
Pakistan Synthetics Ltd.
46.34
48.85
48.85
48.85
48.85
 2.51
500
Rupali Polyester Ltd.(XD)
35.00
35.00
35
35
35
 0
4,500
TECHNOLOGY & COMMUNICATION

SCRIP
LDCP
OPEN
HIGH
LOW
CURRENT
CHANGE
VOLUME
Air Link Communication Limited
37.44
37.99
38.34
36.5
36.93
 -.51
147,500
Avanceon Limited.
82.89
83.50
83.7
81.5
82.18
 -.71
3,620,073
Hum Network Limited.
6.30
6.30
6.35
6.26
6.29
 -.01
343,500
Media Times Limited.
2.08
2.09
2.2
2.08
2.15
 .07
221,500
NetSol Technologies Ltd.
115.06
115.89
120.39
111.85
118.05
 2.99
6,898,673
Octopus Digital Limited
74.01
74.49
74.5
71.75
72.34
 -1.67
879,500
Pak Datacom Limited.(XD)
48.78
48.78
48.78
48.01
48.04
 -.74
7,500
Pakistan Telecommunication Co.
6.97
7.01
7.05
6.87
6.91
 -.06
627,500
Systems Limited.
445.14
445.14
446
435
436.11
 -9.03
523,206
Telecard Ltd.
11.57
11.59
11.68
11.3
11.37
 -.2
7,797,000
TPL CORP Limited.
8.08
8.10
8.37
8.05
8.12
 .04
944,500
TPL Trakker Limited.
8.42
8.10
8.1
8.1
8.10
 -.32
3,000
TRG Pakistan Ltd.
128.47
129.74
135.5
123
125.94
 -2.53
30,688,457
Worldcall Telecom Ltd.
1.52
1.54
1.69
1.54
1.59
 .07
108,566,500
TEXTILE COMPOSITE

SCRIP
LDCP
OPEN
HIGH
LOW
CURRENT
CHANGE
VOLUME
Azgard Nine Limited.
9.70
9.61
10.18
9.61
10.05
 .35
3,738,766
Bhanero Textile Mills Ltd.
1,050.00
1075.00
1090
1075
1085
 35
100
Crescent Textile Mills Ltd.
17.60
17.70
18.5
17.6
18.06
 .46
70,000
Faisal Spinning Mills Ltd.
385.00
400.01
400.01
400.01
400.01
 15.01
100
Fazal Cloth Mills Ltd.
249.23
234.00
248.98
231
244.47
 -4.76
1,100
Ghazi Fabrics International Ltd.
5.00
5.00
5.05
4.9
5.02
 .02
12,500
Gul Ahmed Textile Mills Ltd.
29.25
29.63
29.63
29.1
29.25
 0
75,584
Interloop Limited.(XD)(XB)
59.00
59.00
59.95
58.11
59.17
 .17
41,039
Jubilee Spinning & Weaving Mil [ DEFAULTER SEGMENT ]
3.31
3.21
3.31
3.01
3.11
 -.2
14,500
Kohinoor Industries Ltd.
5.00
5.35
6
4.71
5.35
 .35
30,500
Kohinoor Mills Ltd.
31.91
31.00
32.05
31.1
32
 .09
21,500
Kohinoor Textile Mills Ltd.
53.36
53.36
53.36
53.36
53.36
 0
500
Masood Textile Mills Ltd.
36.40
37.50
39
36.42
37.71
 1.31
2,000
Nishat (Chunia) Ltd.
36.36
36.49
36.49
35.89
35.93
 -.43
387,712
Nishat Mills Ltd.
68.09
67.96
69.2
67.96
68.08
 -.01
744,472
Reliance Weaving Mills Ltd.
63.00
0.0
63
63
63
 0
500
Sapphire Fibres Mills Ltd.
1,243.72
1335.90
1335.9
1335.9
1335.90
 92.1825
20
Sapphire Textile Mills Ltd.
1,099.00
1089.00
1089
1016.58
1023.60
 -75.4
220
Suraj Cotton Mills Ltd.
160.10
161.00
161
160.1
160.10
 0
100
TEXTILE SPINNING

SCRIP
LDCP
OPEN
HIGH
LOW
CURRENT
CHANGE
VOLUME
Asim Textile Mills Ltd.
6.15
6.19
6.19
6.19
6.19
 .04
500
Bilal Fibres Ltd. [ DEFAULTER SEGMENT ]
2.38
2.35
2.38
2.34
2.35
 -.03
66,500
Chakwal Spinning Mills Limited. [ DEFAULTER SEGMENT ]
1.72
1.57
1.8
1.51
1.74
 .02
87,500
Colony Textile Mills Ltd.
3.45
3.59
3.64
3.59
3.64
 .19
10,000
Crescent Cotton Mills Limited.
34.02
31.65
36
31.65
36
 1.98
2,500
D. S. Industries Ltd.
3.18
3.24
3.34
3.16
3.21
 .03
109,000
Dewan Farooque Spinning Mills Ltd.
1.99
2.05
2.54
1.9
2.18
 .19
666,000
Gadoon Textile Mills Ltd.
220.90
220.00
220
220
220
 -.9
700
Hira Textile Mills Ltd. [ DEFAULTER SEGMENT ]
1.85
1.89
1.9
1.8
1.90
 .05
41,000
Indus Dyeing & Manufacturing.
209.50
210.00
210.9
208
209.46
 -.04
4,000
J. K. Spinning Mills Ltd.(XD)
40.00
43.00
43
43
43
 3
1,000
Janana De Malucha Tex Mills.
45.05
43.00
43
43
43
 -2.05
2,000
Kohat Textile Mills Ltd.
15.40
15.79
15.79
15.79
15.79
 .39
500
Kohinoor Spinning Mills Ltd.
2.90
2.90
3.05
2.89
3.01
 .11
842,000
Nagina Cotton Mills Ltd.
75.49
74.00
74
74
74
 -1.49
1,000
Nazir Cotton Mills Ltd. [ DEFAULTER SEGMENT ]
3.05
3.24
3.24
3.24
3.24
 .19
2,000
Premium Textile Mills Ltd.
687.50
650.10
650.1
650.1
650.10
 -37.4
50
Ruby Textile Mills Ltd. [ DEFAULTER SEGMENT ]
4.20
4.00
4.2
4
4.20
 0
1,000
Sana Industries Ltd.
44.00
43.01
43.01
42
42.25
 -1.75
6,500
Saritow Spinning Mills Ltd.
6.68
6.81
6.81
6.81
6.81
 .13
1,000
Shadab Textile Mills Ltd.
19.73
18.65
18.65
18.5
18.50
 -1.23
6,000
Sunrays Textile Mills Ltd.
190.00
185.50
190
185
186.50
 -3.5
900
Tata Textile Mills Ltd. (XD)
57.11
55.35
56
54
55.01
 -2.1
37,000
TEXTILE WEAVING

SCRIP
LDCP
OPEN
HIGH
LOW
CURRENT
CHANGE
VOLUME
Prosperity Weaving Mills Ltd.
45.00
45.90
45.9
45.9
45.90
 .9
500
Shahtaj Textile Ltd.
103.24
103.00
103.6
102.12
102.62
 -.62
500
Yousuf Weaving Mills Limited.
4.89
4.98
5.19
4.85
5.08
 .19
1,486,000
Zephyr Textile Limited.
9.50
0.0
9.5
9.5
9.50
 0
2,000
TOBACCO

SCRIP
LDCP
OPEN
HIGH
LOW
CURRENT
CHANGE
VOLUME
Khyber Tobacco Co. Ltd.
270.00
270.00
276.7
267.01
267.05
 -2.95
4,800
Pakistan Tobacco Co Ltd.
840.00
800.10
800.1
781.41
781.41
 -58.59
100
TRANSPORT

SCRIP
LDCP
OPEN
HIGH
LOW
CURRENT
CHANGE
VOLUME
Cordoba Logistics & Ventures Limited
8.30
7.96
8.38
7.96
8.23
 -.07
5,500
Pak International Airline Corp Ltd
4.12
4.13
4.33
4.1
4.24
 .12
787,500
Pakistan Int.Container Terminal.
161.22
161.02
161.61
160.5
160.60
 -.62
3,800
Pakistan Intl. Bulk Terminal Ltd.
5.52
5.52
5.55
5.41
5.46
 -.06
878,000
Pakistan National Shipping Co.
79.25
80.00
81.5
80
81
 1.75
17,500
VANASPATI & ALLIED INDUSTRIES

SCRIP
LDCP
OPEN
HIGH
LOW
CURRENT
CHANGE
VOLUME
Punjab Oil Mills Ltd.
142.50
142.50
142.5
142.5
142.50
 0
800
S .S . Oil Mills Ltd.
80.10
80.25
84.5
80.25
84.25
 4.15