Muhammad Arif : Chairman Centre of Advisory Services for Islamic Banking and Finance (CAIF), Former Head of FSCD SBP, Former Head of Research ArifHabib Investments and Member IFSB Task Force for development of Islamic Money Market, Former Member of Access to Justice Fund Supreme Court of Pakistan
World
Politics
US pressures Ukraine to weigh talks with Russia
The US is pressuring Ukraine to be open to peace talks with Moscow, with a top Pentagon official saying Kyiv's forces will find it hard to recover all the territory Russia has captured in the war.
US Joint Chiefs Chairman General Mark Milley said on Wednesday that US and allied support has not diminished, but added that Kyiv's success in countering Russia's invasion puts it in a better position to begin talks.
And last week Milley compared the current situation to World War I when the two sides ground to a stalemate within months but kept fighting for three more years at the cost of millions of lives.
He said on Wednesday that the Russians were now reinforcing their hold on about 20 per cent of Ukraine's territory and that the front lines from Kharkiv down to Kherson were stabilising.
Palestinians bury 21 people killed in Gaza fire
Mourners flooded the streets of Gaza on Friday as they carried the shrouded bodies of 21 people, including at least eight children, killed in a fire in an apartment block where residents had planned to celebrate the homecoming of a relative.
Most of the dead were members of the Abu Rayya family, their bodies wrapped in Palestinian flags and brought into a mosque for prayers over their souls, before being buried at the Cemetery of Martyrs east of the Jabalia refugee camp.
The Hamas group, which has ruled the Gaza Strip since 2007, gave the victims a military funeral.
It took firefighters more than an hour to get control of the massive flames that burst through the top floor of a four-storey residential building in Jabalia, one of eight refugee camps in the Gaza Strip, where 2.3 million people live in one of the most densely populated areas on earth.
Details about how or why the fire broke remain unclear as there were no survivors, Abu Ahmad Abu Rayya, the head of the clan, said.
"A father, his children and his grandchildren, not one of them got out alive to tell us what happened," Abu Rayya told the crowds with a strained voice.
Gaza's Interior Ministry said it had launched an investigation into the incident which revealed that large amounts of gasoline had been stored at the site, possibly fuelling the blaze that quickly engulfed the building.
Palestinian President Mahmoud Abbas called it a national tragedy and declared Friday a day of mourning.
Prime Minister Shehbaz Sharif was among the leaders who expressed grief.
Malaysia's veteran politician Mahathir loses seat in first election defeat in 53 years
Mahathir Mohamad, the 97-year-old elder statesman of Malaysian politics, lost his parliamentary seat in Saturday's polls, likely ending the career of one of Asia's most enduring politicians.
Mahathir came in fourth in a five-way fight in his long-held constituency in the holiday resort island of Langkawi, the country's election commission said.
It was his first electoral defeat in more than half a century.
Mahathir held the Guinness World Record for being the "world's oldest current prime minister" when he became premier for a second time in 2018 just two months shy of his 93rd birthday.
Visibly slowed by age but still looking healthy, he ran this time around under his own Homeland Fighters' Party and had laughed off suggestions he should retire, telling reporters before the election he had a "good chance" of winning.
"I'm still standing around and talking to you, I think, making reasonable answers," Mahathir said.
He added his party would not form any alliances with parties that are led by "crooks or jailbirds" — an apparent reference to the United Malays National Organisation (UMNO), the party of jailed former prime minister Najib Razak.
'Mahathir's time has passed'
Mahathir has been criticised for ruling the Southeast Asian nation with an iron fist from 1981 to 2003 but is also hailed for helping transform the country from a sleepy backwater into one of the world's top exporters of high-tech goods.
Mahathir's long leadership provided political stability and he gained the title of "Father of Modern Malaysia" as he oversaw the construction of highways and industrial parks in the 1980s and 1990s.
He came out of his 15-year retirement to lead the opposition Pakatan Harapan (Alliance of Hope) coalition in the 2018 polls amid voter anger over then-incumbent Najib's role in the massive financial scandal at state fund 1MDB.
The reformist bloc won a stunning victory over UMNO and Najib, who was later convicted of corruption and is currently serving a 12-year jail sentence. Mahathir became premier again but his government collapsed in less than two years due to infighting.
He has warned that Najib would be freed if the jailed politician's allies in UMNO win.
He also offered to become prime minister a third time, but observers said he had no chance from the beginning.
His titanic clashes with opposition leader Anwar Ibrahim, his erstwhile heir-in-apparent with whom he had a bitter falling out, have dominated and shaped Malaysian politics over the past two decades.
In the end, age was his biggest opponent.
"Mahathir's time has passed," Bridget Welsh of the University of Nottingham Malaysia told AFP earlier this month ahead of the election.
Veteran Bollywood star Tabassum Govil dies at 78 after suffering a cardiac arrest
Veteran movie actor Tabassum Govil, known for her work as a child artiste in several Hindi classics and also as host of popular TV talk show Phool Khile Hain Gulshan Gulshan, died after suffering a cardiac arrest, her son Hoshang Govil said on Saturday. She was 78.
Mr Govil said his mother had been admitted to a hospital for the past few days. On Friday, she suffered two cardiac attacks and passed away at night.
"Few days ago, she was admitted to a hospital. She had gastro problem and we went there for check-up. She suffered two cardiac attacks at 8.40pm and 8.42pm. She passed away peacefully on Friday night," Mr Hoshang told Press Trust of India.
Born in 1944 in Mumbai to Ayodhyanath Sachdev and Asghari Begum, Tabassum started her career as a child artiste with the 1947 movie Nargis. At that time, she was known in the industry as 'Baby Tabassum' and went to feature in many other movies such as Mera Suhaag (1947), Manjhdhar (1947) and Bari Behen (1949).
In the 1950s, Tabassum acted in movies such as Sargam, Sangram, Deedar, and Baiju Bawra.
She also had a minor role in the 1960 historical epic Mughal-e-Azam, starring Prithviraj Kapoor, Dilip Kumar and Madhubala. After a few more films, Tabassum took up the job of the host of Phool Khile Hain Gulshan Gulshan, which was Indian television's first talk show. She emceed the show from 1972 to 1993 during which she interviewed big stars of the Indian film industry. During her time as the host of Phool Khile Hain Gulshan Gulshan, Tabassum continued to feature in films, though sporadically.
She made her directorial debut with 1985 feature Tum Par Hum Qurban. Her last film was Rajesh Khanna and Govinda-starrer Swarg in 1990 in which she made a guest appearance as herself.
In the 2000s, she appeared in daily soap Pyaar Ke Do Naam: Ek Raadha, Ek Shyaam.
Keeping up with the changing world, she launched her own channel on YouTube, called Tabassum Talkies with son Hoshang where the veteran actor used to discuss the lives of many cinema figures and movies of the bygone era.
In 2021, Tabassum spent 10 days in hospital after contracting Covid-19.
Tabassum is survived by her husband Vijay Govil, the elder brother of veteran TV star Arun Govil, and son Hoshang.
Qatar slams Europe's rights storm over World Cup as 'racism'
DOHA: Facing a storm of European criticism before the start of the World Cup, Qatar on Tuesday stepped up its diplomatic and media riposte which has included threatening "legal" action to defend its name.
Five days from the opening game, Qatar's chief World Cup organiser said attacks on the Gulf state had been launched because it "competed as equals and snatched" the World Cup from rival bidders. A senior member of the Qatar Football Association called European critics "the enemy".
In an interview, Qatar's Labour Minister Ali bin Samikh Al Marri said "racism" was behind the onslaught on his country's record. "They don't want to allow a small country, an Arab country, an Islamic country, to organise the World Cup," he said.
Facing criticism of its treatment of foreign workers and rights for women and the LGBTQ community, the wealthy Gulf state has long used the case that everyone is "welcome" at the World Cup and said opponents were acting in bad faith.
The tone has changed in recent weeks, highlighted by comments by the emir, Sheikh Tamim Hamad Al Thani, who told the national legislature on Oct 25 that Qatar had faced an "unprecedented and growing campaign" that smacked of "double standards".
Three days later, the German ambassador to Doha was summoned over comments made by his country's interior minister casting doubt on whether Qatar should host the World Cup.
Qatar's media has spoken of a "systematic conspiracy" by European rivals.
The Al Sharq newspaper slammed "the arrogance" of some European countries.
On a recent European tour, Foreign Minister Mohammed bin Abdulrahman bin Jassim Al Thani said in media interviews that there was "a lot of hypocrisy in these attacks".
"They are being peddled by a very small number of people, in 10 countries at most, who are not at all representative of the rest of the world," he told Le Monde without naming those involved.
'Enemy is a blessing'
Sheikh Ahmed bin Hamad Al Thani, a member of the Qatar Football Association executive, told Al Sharq in an interview published on Tuesday: "For me, the presence of the enemy is a blessing and not a curse, because this may push you to do your work in the best possible way."
After a recent British media report on the hacking of opponents of Qatar's World Cup hosting, a government official warned: "Qatar will not stand by when confronted by such baseless allegations, and all our legal options at our disposal are being explored to ensure those responsible are held to account."
The bitterness expressed in some newspaper editorials is starting to be seen in comments by some officials.
Hassan Al Thawadi, secretary general of Qatar's organising committee, told Al Jazeera television that the Gulf state's unnamed opponents were jealous of its hosting.
"The campaigns are due to the fact that Qatar is an Arab country that was able to compete as equals and snatch the hosting of the tournament."
He said the attacks were based on "the stereotyped image of the Arab world, which is one of the reasons we fought to host the World Cup, to change the stereotyped idea about Arabs".
A European diplomat in Doha said the Qatar government had reached "the end of the line with the criticism". "They blame us even though very little is coming from governments," added the diplomat.
Economy
GLOBAL INDICES AS OF 20th November 2022
PAKISTAN
Politics
Bilawal asks protesting PTI to spare army chief's selection week
ISLAMABAD: While questioning the venue and timing of the PTI's long march, Pakistan Peoples Party Chairman and Foreign Minister Bilawal Bhutto-Zardari on Saturday said it was former premier Imran Khan's "last-ditch effort" to push the institution of army away from its constitutional role towards an unconstitutional role and appealed to the PTI chief to delay his protest till the completion of the process of army chief's appointment.
Also, the PPP chairman, in respo­nse to a question regarding the possibility of President Arif Alvi, who belongs to the PTI, creating hurdles in the army chief's appointment process, told a presser that this was the last chance for Mr Alvi to let everything take place according to the law and Constitution after his failed attempt to dissolve the assembly. "If he [the president] tries to create an issue, he would have to face the consequences," he declared.
"This is my appeal to Khan Sahib to behave sensibly and delay the protest for a couple of weeks so that the constitutional and legal process of the appointment of the army chief can be completed and so that I cannot make an allegation that you [Imran] are doing all this to make the appointment controversial," the PPP chairman declared while speaking at the hurriedly-called news conference at Zardari House.
"Why has Mr Khan chosen the very week [for the protest] when the appointment file must move to the appropriate ministry for the nomination of the new chief of the army staff?" asked Chairman Bhutto-Zardari in an apparent reference to the Nov 28 retirement date of Chief of Army Staff (COAS) General Qamar Javed Bajwa. He said everyone in the country knew as to why Mr Khan had selected Rawalpindi for the protest and on the same dates when the summary for the nomination of the new army chief would be moving.
Pakistan will not default, will make bond payments on time: Dar
Finance Minister Ishaq Dar on Saturday said Pakistan will not default and would meet its upcoming $1 billion dollar bond payments.
The finance minister was addressing a press conference via video link from Islamabad. He said that there were rumours that the country would not be able to pay $1bn on December 5 against the maturity of five-year sukuk, or Islamic bonds.
"We have never defaulted before. We will not even be close to default … Let me clear this categorically that the bond will be paid and there is no delay in this and even arrangements have been made in principal for upcoming payments in the next year," he said.
Dar said that no one should worry about the rumours, claiming they were being spread seemingly for political purposes. "This is highly irresponsible behaviour," he added.
Dar said that another rumour was spread about Pakistan's credit default swap. "Our international bonds have very small transactions … and technically there should be no impact on them," he added.
The finance minister said that people should desist from speculation about increased risk, saying that such "irresponsible statements" would hurt the country and should be avoided.
He said there was another rumour spread about fuel reserves depleting in the next few days. "There is nothing like this. The reserves are present at the level they should be and there is no need for worry," Dar explained, once again calling for rumours to be avoided.
Regarding the current account deficit, Dar said it was under strict watch and being monitored and managed for the national interest. He said it was $316 million in September and was expected to be below $400m in October.
"If this continues at the same pace then it will be around $5-6bn for the year [while] the projected was $12bn," the finance minister said.
He once again said that the country came prior to any political affiliation and requested people to avoid rumours about the economy and issue statements with responsibility.
Imran has nothing to do with army chief's appointment, says Abbasi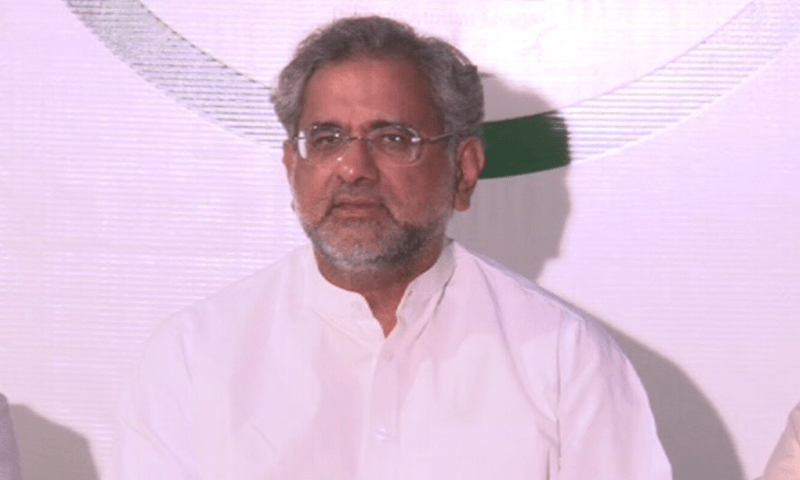 TAXILA: Former prime minister Shahid Khaqan Abbasi said the appointment of the army chief was the constitutional responsibility of the prime minister and PTI chief Imran Khan had nothing to do with it.
Addressing a workers' convention in Attock on Saturday, he said the upcoming army chief will be appointed before November 29 by the prime minister in line with the law and the constitution.
He was of the view that the matter of the new army chief's appointment should not be politicised. He clarified that the army chief's appointment will be made on a professional basis and following the procedure as prescribed in the constitution.
Mr Abbasi said that the incumbent government faces no imminent threat from the long march of the PTI.
"Imran Khan may do whatever he wants from street politics to agitation, but the present political set-up is not going anywhere.
"He may launch a long march or as he wishes, but the government will remain intact."
Talking about the PTI change of stance on the alleged US conspiracy to out his government, the PML-N leader asked if Imran Khan had taken a u-turn for the first time. He said Imran had turned away from everything he had talked about in the last four years.
He said the PTI chief had given up the foreign conspiracy rhetoric after playing havoc with the national interests, adding he left no other option but to surrender his fake rhetoric of the conspiracy, imported government and regime change.
He said the four years of PTI rule was a classic example of inefficiency, incompetence and lies. He claimed that the previous government had destroyed employment opportunities and caused inflation.
Mr Abbasi said the PML-N's decision to form government was the most difficult in the country's history and it had a political price.
"PML-N will pay a heavy price for forming a government in the upcoming elections," he added.
He said the PML-N-led government had managed some relief to the nation amid difficult circumstances around the world.
Former federal minister Sheikh Aftab Ahmed, former provincial minister Sher Ali Khan, Malik Ibrar, member National Assembly Malik Sohail, member Punjab Assembly Jehangir Khanzada AND former MPA Umer Farooq also addressed the convention.
Rice exporters fear big drop in shipments after floods
KARACHI: Rice exporters are braced for a lacklustre year ahead amid fears of at least a 30 per cent drop in production in Sindh due to damage to crops caused by flash floods earlier this year.
Besides, they also face fierce competition from India, which is offering lower prices to foreign buyers.
Chela Ram Kewlani, chairman of the Rice Exporters Association of Pakistan (REAP), a representative body of the sector, said Pakistan fetched $2.5 billion from rice exports by shipping 4.88 million tonnes of rice to various foreign destinations in the previous fiscal year (2021-22).
It was 1.19m tonnes more than the year-ago figure of 3.684m tonnes, which helped the country fetch a little over $2bn.
"I think rice exports may plunge to 3.5m tonnes this fiscal year (2022-23) in view of the damage to the crop in Sindh," Mr Kewlani said. However, he was satisfied with Punjab's figures.
Say exports may plunge to 3.5m tonnes this year from 4.8m after Sindh crop hit by flooding
He said rice crop arrivals in Sindh were due in October but had been delayed by a month due to recent flooding that inundated large swathes of the country.
Last year, the country's rice production was 8.5m tonnes, whereas local consumption stood at 3m tonnes.
On incentives, the REAP chairman was not happy with the fact that rice exporters were ignored when Finance Minister announced big power relief for the export sector last month.
According to the Pakistan Bureau of Statistics, basmati exports plunged to 173,684 tonnes (fetching $182m) in the July-October period from 229,791 tonnes ($198m), reflecting a drop of 24.4pc in quantity and 8.4pc in value.
Other rice varieties fetched $364m with shipments of 791,676 tonnes compared to $396mn (861,999 tonnes), down 8pc each in quantity and value.
In October alone, basmati rice exports stood at 45,154 tonnes ($51m) compared to 43,821 tonnes ($43m) in September and 51,499 tonnes ($45m) in October 2021.
Exports of other rice varieties stood at 205,744 tonnes ($92m) in October compared to 163,497 tonnes ($76m) in September and 297,576 tonnes ($126m) in October last year.
Faisal Anis Majeed, the deputy convener of the Federation of Pakistan Chambers of Commerce and Industry's (FPCCI) rice committee, said foreign buyers were turning towards India, whose rice prices were less than Pakistan's by $80 to $100 a tonne.
He said the rupee's depreciation over the last month also created problems for exporters, making exports expensive.
Meanwhile, it has been noted that consumers are paying higher prices for local rice due to massive exports in the previous fiscal year.
Prices of various rice varieties have gone up by 60-70pc in the last one and a half years. However, market sources said rice hoarding also went unchecked as "the mafia" kept the commodity out of the market to create an artificial shortage and fetch better prices.
While the wholesale rates of different rice varieties now hover between Rs85 and Rs320 per kilogram, retail prices seem to have no limits due to fat margins.
Economy (Pakistan)