World
Politics
Indian police detain students for screening BBC Modi documentary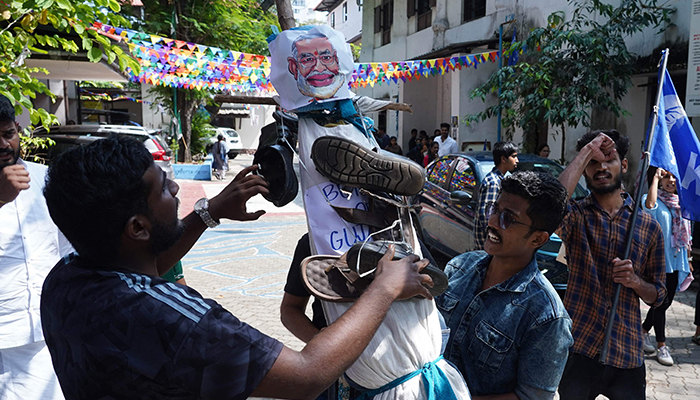 NEW DELHI: Indian police on Friday detained students in New Delhi after stopping the screening of a BBC documentary on Prime Minister Narendra Modi's role during deadly sectarian riots in 2002.
The students at Delhi University had followed several campuses around the country in staging a broadcast, defying government efforts to stop its spread by blocking its publication on social media.
Police swarmed the university after student groups supportive of Modi's ruling party objected to the screening, seizing laptops and imposing a ban on assemblies of more than four people.
Police officer Sagar Singh Kalsi told Indian news channel NDTV that 24 students were detained.
The two-part BBC programme alleges that Modi had ordered police to turn a blind eye to deadly riots while he was chief minister of Gujarat state.
The violence began after 59 Hindu pilgrims were killed in a fire on a train. Thirty-one Muslims were convicted of criminal conspiracy and murder over that incident.
At least 1,000 people, mostly Muslims, died in the unrest that followed.
The documentary quoted a previously classified British foreign ministry report which said the violence was "politically motivated" and the aim "was to purge Muslims from Hindu areas".
The report also claims that the riots were impossible "without the climate of impunity" created by Modi's administration.
India has dismissed the series as a "hostile" propaganda piece and ordered big social media platforms like Twitter and YouTube to block sharing or streaming it under controversial information technology laws.
Earlier this week, authorities at New Delhi's prestigious Jawaharlal Nehru University also banned an attempted screening and warned of "strict disciplinary action" if the edict was ignored.
But defiant groups of students there and at numerous college campuses across India have gathered to watch the documentary on laptops and phone screens.
Modi ran Gujarat from 2001 until his election as prime minister in 2014 and briefly faced a travel ban by the United States over the violence.
An investigation team appointed by the Indian Supreme Court to probe the role of Modi and others in the violence said in 2012 it did not find any evidence to prosecute him.
Johannesburg gets first Muslim mayor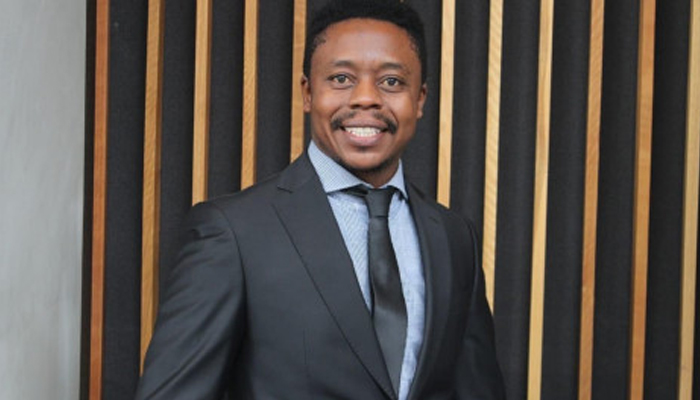 JOHANNESBURG: A councillor from a small Muslim party was elected mayor of Johannesburg on Friday after months of political manoeuvring and legal battles for control of South Africa's business capital.
Thapelo Amad, of the Al Jama-ah party, was voted in by the city council to replace mayor Mpho Phalatse, a member of South Africa's largest opposition party, the Democratic Alliance (DA).
Amad, 41, said he was "humbled" and "overwhelmed" at being the first Muslim to helm the country's biggest metropolis.
"It marks history in South Africa," he told the council after the vote.
He vowed to make the fight against graft his top priority.
Amad was elected with the support of the ruling African National Congress (ANC) party, which holds the most seats in the council but fell short of an outright majority at the 2021 city elections.
Amad's appointment came as a surprise, with Al Jama-ah holding only three of the council's 270 seats, and follows months of coalition horse-trading.
His predecessor, Phalatse, 45, was ousted in a vote of no-confidence earlier this week.
It was the third no-confidence vote the outgoing mayor had faced since September when she was first pushed out after her coalition crumbled — only to be later reinstated by the courts.
Phalatse became the first black woman to lead South Africa's main economic hub in 2021 after the ANC lost local elections in its worst showing on the ballot since the advent of democracy in 1994.
Canada names first anti-Islamophobia adviser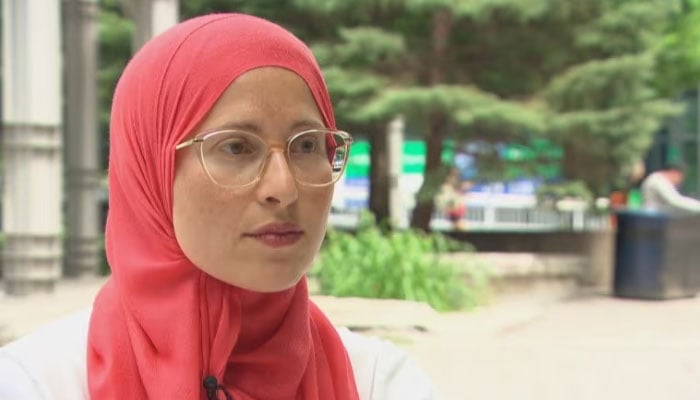 MONTREAL: Canada on Thursday appointed its first special representative on combatting Islamophobia, a position created following several recent attacks on Muslims in the country.
Journalist and activist Amira Elghawaby will fill the post to "serve as a champion, adviser, expert and representative to support and enhance the federal government's efforts in the fight against Islamophobia, systemic racism, racial discrimination and religious intolerance," a statement by the prime minister's office said.
Nine martyred in Israel West Bank raid: Palestinian ministry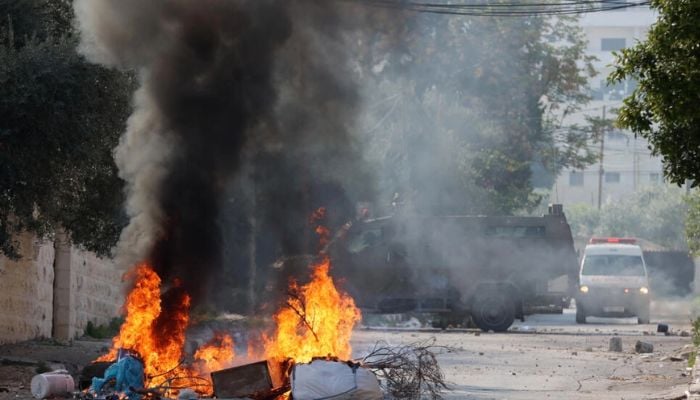 JENIN: An Israeli raid on the occupied West Bank's Jenin refugee camp Thursday martyred nine Palestinians including an elderly woman, Palestinian officials said, also accusing the forces of using tear gas inside a hospital children's ward.
The death toll rose to "nine martyrs including an elderly woman," the health ministry said, with multiple wounded.
In a separate statement, Palestinian health minister Mai al-Kaila charged that "occupation forces stormed Jenin Government Hospital and intentionally fired tear gas canisters at the paediatric department in the hospital".
She described the situation in the refugee camp as "critical" and said Israeli forces were preventing ambulances from reaching the wounded.
Israel's army declined to comment when asked by AFP about the health minister's tear gas allegation.
The military has said only that its "forces are operating in Jenin".
Thursday's fatalities bring the number of Palestinians martyred in the West Bank so far this year to 29, including fighters and civilians, most of whom were shot by Israeli forces.
Jenin deputy governor Kamal Abu al-Rub told AFP that residents were living in a "real state of war".
"The Israeli army is destroying everything and shooting at everything that moves," he told AFP.
The mounting toll follows the deadliest year in the Palestinian territory since United Nations records began in 2005.
'Invasion Day' rallies mark divisive national holiday in Australia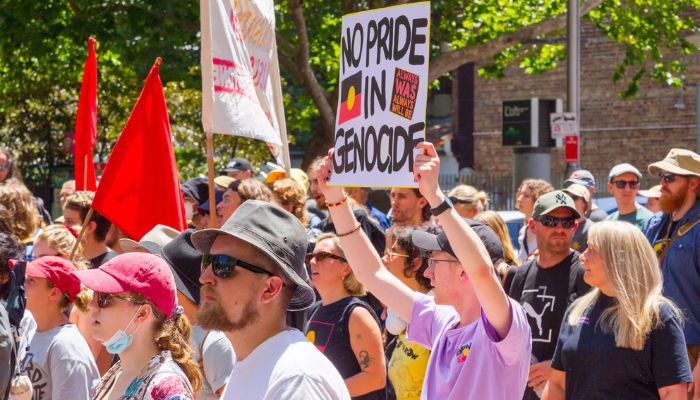 SYDNEY: Thousands protested Australia's increasingly divisive national day Thursday as the public debates whether the country's Indigenous population should be recognised in the constitution.
Australia Day on January 26 has traditionally celebrated the arrival of European settlers at Sydney Harbour in 1788, and has typically been observed with beach parties and backyard barbecues.
But in recent years, it has also become a day of national protest, with some Australians calling it "Invasion Day" and saying it was the start of a cultural genocide by European colonisers.
Indigenous activist Paul Silva, speaking to a crowd of thousands at an Invasion Day rally in central Sydney, said the national holiday should be abolished.
Iran slaps new sanctions on EU, UK in tit-for-tat move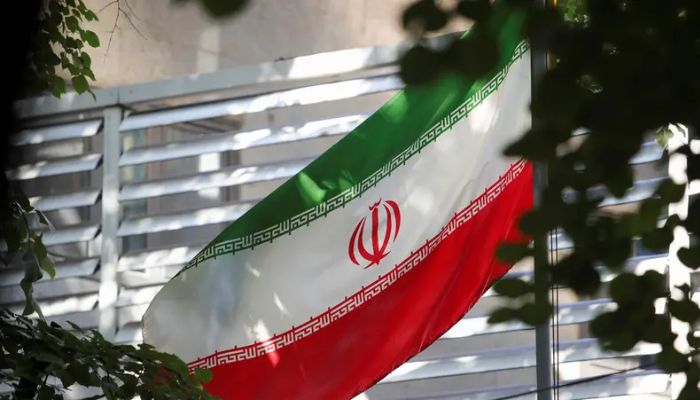 TEHRAN: Iran on Wednesday imposed sanctions on 34 individuals and entities from the European Union and Britain in reaction to similar measures taken over Tehran's response to months-long protests.
The measures come two days after the EU and Britain slapped another round of sanctions on Iran, which has been rocked by protests since the September 16 death of Mahsa Amini.
Amini, a 22-year-old Iranian Kurd, died in custody after being arrested for allegedly breaching the country's strict dress code.
The sanctions include financial measures — the blocking of accounts and transactions in Tehran's banking systems — as well the "prohibition of visa issuance and entry" to Iran, the foreign ministry said in a statement.
Tehran accuses the people and organisations of "supporting terrorism and terrorist groups, instigating and encouragement to terrorist acts and violence against Iranian people".
It also accuses them of "interference in the domestic affairs of the Islamic Republic of Iran and fomenting violence and unrest".
Sanctions include 25 listed names from the EU, and nine from Britain.
France´s Radio J, the group European Friends of Israel (EFI), and 22 individuals including six members of the European Parliament are among those targeted.
The list also includes the Swedish-Danish right-wing extremist Rasmus Paludan, who burned a copy of the Koran in Sweden on Saturday, sparking strong protests from the Muslim world.
Iran had warned of reciprocal action on Tuesday, after the EU imposed its fourth round of sanctions against the country since the protests started, placing 37 more officials and entities on an asset freeze and visa ban blacklist.
Britain on the same day sanctioned five more Iranian officials, broadening its blacklist to 50 individuals and organisations it considers to be involved in dealing with the protests.
Economy (World)
Pakistan
Politics
Pakistan deplores desecration of Holy Quran in Denmark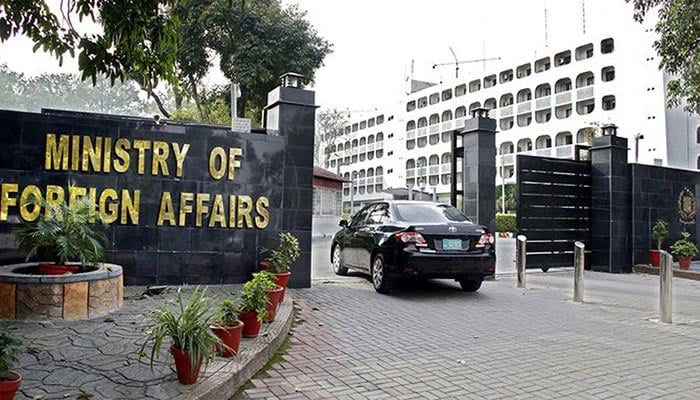 Strongly condemning the senseless and deeply offensive act of desecration of the Holy Quran in Denmark, Pakistan on Saturday urged the international community to take steps to prevent such hateful and Islamophobic acts.
Notorious anti-Islam activist Rasmus Paludan, a Danish-Swedish dual national, first burnt a copy of the holy book near a mosque in the Danish capital and then a second copy outside the Turkish embassy a day earlier.
In a statement, Foreign Office spokesperson Mumtaz Zahra Baloch said, "This repetition of the vile act leaves little doubt in the minds of Muslims around the world that freedom of expression is being blatantly abused to spread religious hatred and incitement to violence."
The spokesperson mentioned that Pakistan's concerns were being conveyed to the authorities in Denmark.
"We urge them to be mindful of the sentiments of the people of Pakistan and Muslims around the world and take steps to prevent such hateful and Islamophobic acts," she added.
The spokesperson also called into question the legal framework behind which the Islamophobes hide and spread hatred with impunity.
At a time when there was an increasing need for inter-faith harmony and mutual respect for peaceful coexistence, the international community could not turn a blind eye to these hatemongers, she added.
Pakistan reiterated its considered position that freedom of expression came with responsibilities.
"Pakistan also believes that it is the responsibility of the national governments as well as the international community to prevent these racist and Islamophobic acts", the spokesperson added.
Furious that Paludan was allowed by police to carry out the protest, Ankara cancelled a visit by Sweden's defence minister and summoned Stockholm's ambassador, and later the Dutch ambassador.
The incidents have been condemned by world leaders as well as the United Nations and the European Union.
In another abhorrent incident, Edwin Wagensveld — a Dutch leader of the far-right Pegida movement in the Netherlands — tore pages of the holy book near the Dutch parliament after stomping on them.
The incident took place on Sunday last week, however, the police did not intervene, according to media reports.
Govt announces holiday in Islamabad on Jan 30 upon UAE president's arrival
The federal government on Saturday announced holiday in the capital city on Jan 30 ahead of the visit of the United Arab Emirates (UAE) president Shaikh Muhammad Bin Zayed Al-Nahyan to the city.
All schools, colleges, and public offices except CDA, SNGPL, IESCO, hospitals, district administration, and metropolitan corporation will take the day off. His visit to the capital city will underscore important meetings.
The president has been on a five-day private visit to Pakistan since Jan 25. Prime Minister Shehbaz Shairf had, earlier, welcomed him on his arrival to Rahim Yar Khan airport.
People welcoming Maryam 'without party's call' proves nation's choice: Marriyum Aurangzeb
Federal Minister for Information and Broadcasting Marriyum Aurangzeb said on Saturday the welcome given to Pakistan Muslim League-Nawaz (PML-N) senior vice president Maryam Nawaz by people without the party's call upon her arrival proved nation's choice.
Read Also: PML-N forms committee for Maryam Nawaz s reception
Taking to Twitter, she wrote, "People now know that a "foreign agent" was responsible for soaring inflation, unemployment, and economic degradation. They have responded to Toshakahna thief today".
Earlier, Ms. Nawaz landed in Pakistan after four months. Upon her arrival, she asked the nation to repose faith in Finance Minister Ishaq Dar for economic revival.
Fawad Ch's physical remand extended for two more days
Judicial Magistrate on Saturday extended physical remand of Pakistan Tehreek-e-Insaf (PTI) leader and former federal minister Fawad Chaudhry for two more days.
Judicial Magistrate Waqas Ahmed Raja pronounced the reserved verdict. The petition, filed by the police, also called for revocation of the order passed by a magistrate yesterday that sent the ex-minister on judicial remand.
Earlier in the day, the Islamabad police challenged the verdict of a judicial magistrate to reject a plea for extension in physical remand of the former information minister. Police had pleaded the court to declare Judicial Magistrate Waqas Ahmed Raja's ruling null and void as they needed more time to complete interrogation in the case.
During the hearing, police told court they needed to take Mr Chaudhry to Lahore for photogrammetric test. However, Babar Awan requested the court discharge the case against his clince as it is "politically motivated".
The capital police moved court after Fawad filed a bail plea in court of Additional Sessions Judge Faizan Gillani.
A day earlier, the judicial magistrate sent the former information minister to the Adiala Jail on 14-day judicial remand after turning down a police plea for extension in the physical remand. The PTI bigwig was produced before the magistrate in handcuffs after his two-day remand ended on Friday in the case filed by the Election Commission of Pakistan (ECP) secretary.
LHC fixes PTI's plea for hearing against delay in election date announcement in Punjab
The Lahore High Court (LHC) on Saturday fixed the Pakistan Tehreek-e-Insaf's (PTI) plea against Punjab Governor Balighur Rehman's delay in announcing the date for elections in Punjab for hearing.
Justice Jawad Hasan will hear the plea on Jan 30.
Earlier, the PTI had moved the LHC against no announcement of the election date in Punjab
FM Bilawal to leave for Russia visit on Sunday
Foreign Minister Bilawal Bhutto Zardari will undertake an official visit to Moscow at the invitation Russian counterpart Sergey Lavrov from 29-30 January 2023.
The foreign minister will hold official talks with his Russian counterpart where the two sides would deliberate upon the entire spectrum of bilateral relations and exchange views on regional and international issues of mutual interest.
The visit comes as Pakistan is in talks with Russia on import of oil as the South Asian country seeking ways to meet energy demands.
Recently, an independent Russian oil refiner, Forteinvest, has secured a deal that will see Russian gasoline shipped to Pakistan by land for the first time.
Forteinvest has received more requests to provide Pakistan with gasoline, diesel, and LPG. Forteinvest has already sold a trader a 1,000-tonne lot of gasoline from its Orsk facility for delivery to Pakistan.
Due to the lack of direct rail links between Russia and Pakistan, the sources claimed the refined goods will be transported by rail from the Orsk refinery in Russia s Orenburg area close to the Kazakhstan border to Afghanistan before being unloaded onto tank trucks for transportation to Pakistan.
Met Office forecast light rain, drizzle in Sindh
The Met Office has forecast light rainfall or drizzle in Sindh under the influence of a weather system on Saturday and Sunday.
According to the weather department, Sindh's Jacobabad, Qambar- Shahdadkot, Kashmore, Shikarpur, Larkana, Sukkur, Ghotki, Khairpur, Dadu, Noshehro Feroz, Shaheed Benazirabad and Jamshoro districts likely to receive light rainfall on Saturday night or Sunday.
There are chances of drizzle in Karachi, Thatta, Hyderabad, Tand Allahyar, Tando Muhammad Khan, Matyari and Mirpurkhas durin same period.
Pakistan Meteorological Department has predicted that a westerly wave is likely to enter western parts of country on Saturday, and likely to grip upper parts on Sunday and may persist till Monday (afternoon).
Rain-wind/thunderstorm with isolated hailstorm and snowfall over the hills is expected in Murree, Galliyat, Kashmir, Gilgit-Baltistan and parts of KP from 28th to 30th January, while in Islamabad, Pothohar region, upper and central Punjab on 29th and 30th January.
Light to moderate rainfall with snowfall over the hills is expected in Quetta, Zhob, Barkhan, Harnai, Qila Saifullah, Qillah Abdullah, Chamman, Pishin, Panjgur, Turbat, Khuzdar, Kalat and Makran coast on 28th and 29th January.
Tourists have been advised to remain cautious during the spell.
Temperatures are likely to fall by 02-04° Celsius in the region after the spell.
Zardari has 'paid money to terrorists' to kill me, claims Imran without proof
LAHORE/ISLAMABAD-Pakistan Tehreek-e-Insaf (PTI) Chairman Imran Khan Friday alleged that following the two failed assassination attempts on his life, a third plot had been hatched to kill him by the terrorists funded by the PPP leader Asif Ali Zardari.
"Asif Ali Zardari is among four people from an agency who orchestrated a plan behind closed doors to assassinate me", he alleged in a televised address to the party workers from his Zaman Park residence here.The PTI chairman said that Zardari paid money, amassed through massive corruption in Sindh, to a terrorist organisation to kill him. He further stated that after the failure of the plan-A and plan-B, now, there was a Plan-C and Zardari was behind this plan.
The PTI Chairman said that if anything happened to him, the four including Zardari would be responsible for it. He said he had already been informed about the conspiracy which was hatched by the four to assassinate him. Imran Khan said that he had recorded his video statement in which he revealed their names who ran the entire campaign against him.
"They almost succeeded, but Allah saved me," he added. The PTI chairman went on to say that irrespective of whatever was planned against him, he would be back in the streets as soon as he recovered from the injuries.
"I am revealing these names as my nation should know who were behind these attacks so they cannot enjoy their lives after they have done this and so that the nation never forgives them," he maintained.
Pakistan Tehreek-e-Insaf (PTI) Chairman Imran Khan fired a salvo at the imported government for what he called descending the country into quagmire and rising fascist tendencies. He said the country was at crossroad and the nation was looking towards the judiciary.
Talking about Wazirabad attack, Khan said that he already knew about the bid to assassinate him and he divulged names of all those who conspired against him."They backtracked from their attempt and went for a Plan B – in which they tried to kill me in the name of religious extremism," he said, adding that that plan also failed.
Economy (Pakistan)