Elon Musk takes control of Twitter in $44bn deal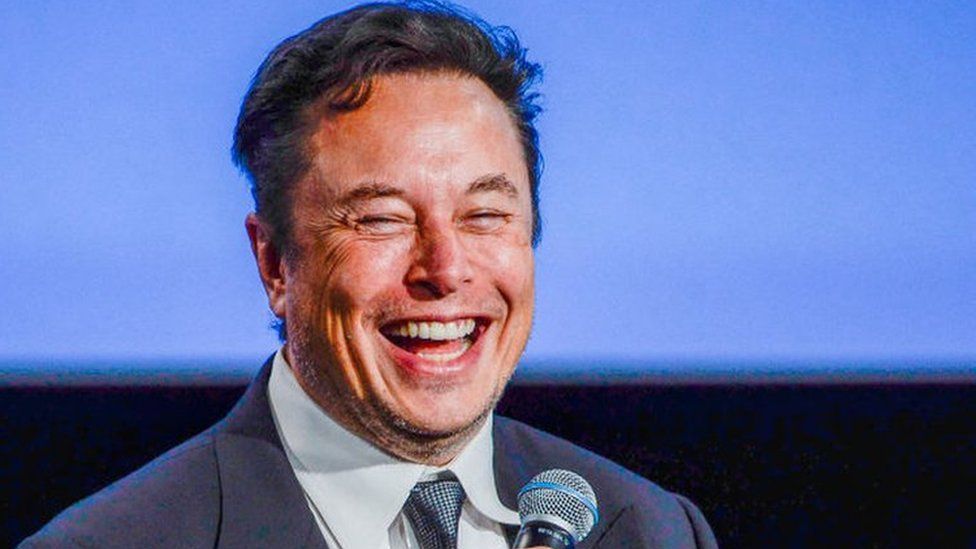 The world's richest man, Elon Musk, has completed his $44bn (£38.1bn) takeover of Twitter, according to a filing with the US government.
Mr Musk tweeted "the bird is freed" and later said "let the good times roll".
A number of top executives, including the boss, Parag Agrawal, have reportedly been fired.
Mr Agrawal and two other executives were escorted out of Twitter's San Francisco headquarters on Thursday evening, said Reuters.
The completion of the deal brings to an end months of legal wrangling but it has prompted questions over the platform's future direction.
A filing was made with the US Securities and Exchange Commission on Thursday, confirming the takeover.
The New York Stock Exchange said on Friday that trading in Twitter's shares had been suspended, giving the reason as "merger effective".
Mr Musk, a self-styled "free speech absolutist", has been critical of Twitter's management and its moderation policies.
They clashed over the terms of the takeover, with Mr Musk accusing Twitter of providing misleading information about the firm's user numbers.
He has also said he would reverse bans on suspended users, which could include former US President Donald Trump, who was excluded following the Capitol riot in January 2021.
At the time, Twitter said there was a risk Mr Trump would incite further violence. But Mr Musk has described the ban as "foolish".
Earlier this week, Mr Musk said that he doesn't want the platform to become an echo chamber for hate and division. "Twitter obviously cannot become a free-for-all hell-scape, where anything can be said with no consequences!" he tweeted.
Ukraine war: Kyiv set for longer power cuts after air strikes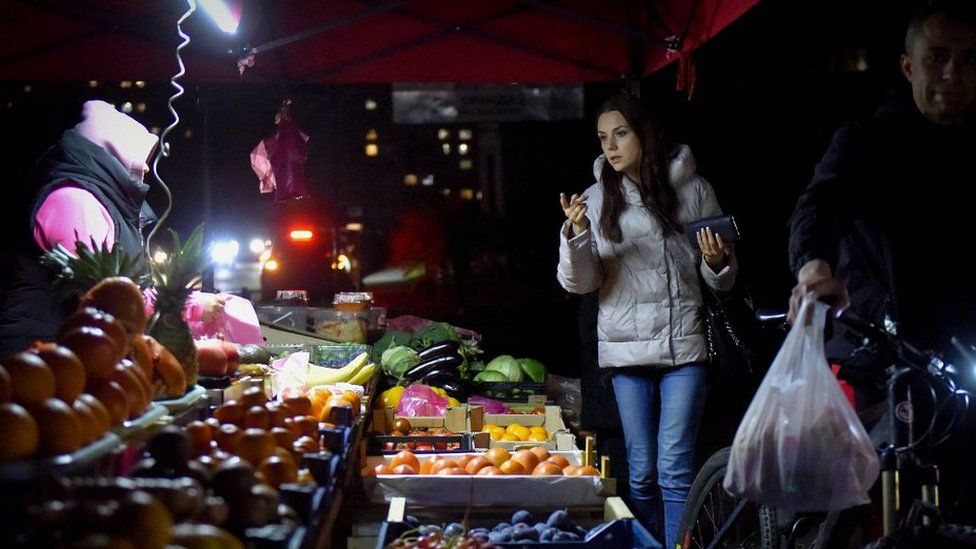 The Ukrainian authorities have warned people in the capital Kyiv to expect longer power cuts, lasting more than four hours, because of Russian attacks on energy infrastructure.
Rolling blackouts are hitting not only Kyiv but also central regions of Ukraine, including the city of Dnipro.
President Volodymyr Zelensky said about four million people were affected but "shelling will not break us".
This month Russia launched dozens of missiles and Iranian-made drones.
Ukraine's energy infrastructure is being pounded by the air attacks – Mr Zelensky says about a third of the country's electric power stations have been destroyed.
The Kyiv region has lost 30% of its power capacity, the private energy company DTEK says, meaning "unprecedented" power cuts will be necessary.
"Unfortunately the scale of restrictions is significant, much larger than it was before," said DTEK director Dmytro Sakharuk.
The power cuts have meant curbs on the use of street lights and electric-powered public transport, besides the discomfort in people's homes.
Rishi Sunak set to become UK's first PM of Indian origin as rivals quit race
Rishi Sunak will become British prime minister on Monday after other candidates quit the race to lead the Conservative Party, leaving him with the task of steering a deeply divided country through an economic downturn set to leave millions of people poorer.
Sunak, one of the wealthiest politicians in Westminster, will be asked to form a government by King Charles, replacing Liz Truss, the outgoing leader who only lasted 44 days in the job.
He defeated centrist politician Penny Mordaunt, who failed to get enough backing from lawmakers to enter the ballot, while his rival, the former prime minister Boris Johnson, withdrew from the contest saying he could no longer unite the party.
"This decision is a historic one and shows, once again, the diversity and talent of our party. Rishi has my full support," Mordaunt said in a statement as she withdrew from the race just minutes before the winner was due to be announced.
Economy (World)
GLOBAL INDICES AS OF 30th October 2022
PAKISTAN
Politics
Journalist Arshad Sharif shot dead in Kenya
Confirming the journalist's demise, the Foreign Office said Pakistan's high commissioner to Kenya, along with other officials, reached Chiromo Funeral House in Nairobi where she identified Sharif's body.
"Further procedures including police report are awaited," the statement said.
The high commission would facilitate early return of Sharif's body to Pakistan, the Foreign Office said, adding that the journalist's family had been assured of all possible assistance.
Mystery surrounds the circumstances that led to the journalist's death. Some Pakistani media outlets initially reported Sharif had been shot at but then said he died in an accident. Sharif's wife later tweeted he had been shot dead.
Initially, Kenyan media quoted the local police as saying Sharif was shot dead by police in a case of "mistaken identity". It said the incident took place on Sunday night along the Nairobi-Magadi highway.
A statement released by the National Police Service of Kenya later confirmed that the incident occurred last night along the Kwenia farm/Kamukuru Marram road within Magadi, where "a foreigner namely Arshad Mohammed Shariff, a Pakistani national aged 50 years was fatally wounded by a police officer while a passenger in a motor vehicle KDG 200M.
"At the time of the incident, deceased was in company of his brother namely Khurram Ahmed. Incident follows a circulation from Pangani Police of a stolen motor vehicle. The officers trailing the motor vehicle towards Magadi alerted police in Magadi who erected a road barrier," it said
The police service stated that the deceased's motor vehicle came upon the police barrier that Sharif's driver "drove through". "It is then that they were shot at, fatally injuring late Arshad Mohammad Shariff."
The Kenyan police further said that it regretted the incident, adding that the competent authorities were investigating the incident for appropriate action.
Talking to the media after visiting Sharif's house, Information Minister Marriyum Aurangzeb said the journalist was shot at a police checkpoint at an hour's distance from Nairobi.
DG ISPR, DG ISI address press conference
Inter-Services Public Relations (ISPR) Director General (DG) Major General Babar Iftikhar are addressing a joint press conference in Rawalpindi over the death of senior journalist Arshad Sharif.
"The purpose of this press conference is to inform you about the death of prominent senior journalist Arshad Sharif in Kenya and the circumstances surrounding it," said DG ISPR in the press conference from Rawalpindi.
At the outset of his press conference, Babar Iftikhar said the purpose of today's media talk was to shed light on the killing of journalist Arshad Sharif in Kenya and the circumstances surrounding it.
This press conference is being held in the context of presenting facts so that "facts, fiction and opinion can be differentiated", Babar Iftikhar said, adding that Prime Minister Shehbaz Sharif had been "specially informed" about the sensitivity of the news conference.
Lt-Gen Iftikhar went on to say that Arshad Sharif's popularity was based on being an investigative journalist and when the cypher — which PTI chief Imran Khan has touted as evidence of a foreign conspiracy to oust his government — surfaced, he conducted several programmes on the issue.
He held several meetings with the former premier and interviewed him, the DG ISPR said. "As a result, it was stated that he was shown meeting minutes and the cypher," he added.
The facts behind the cypher and the journalist's death have to be determined, he said
The Army informed the National Security Committee that no proof was found regarding the conspiracy against the PTI government, he said, adding that the Inter-Services Intelligence (ISI) also did not find any evidence regarding the conspiracy.
The ISPR DG said then Arshad Sharif and other journalists were fed a particular narrative and an attempt was made to defame Pakistan and the country's institutions across the world. "In this media trial, ARY News TV channel played the role of a spin doctor in targeting the Army and promoting a false narrative. The NSC meeting was highlighted in the wrong context," he revealed.
The ISPR chief noted that Arshad Sharif made strong comments regarding the Army during this time but added that "we did not have any negative sentiments about him and we don't have such feelings now."
Threat Letter
Lt-General Babar Iftikhar also revealed that the Khyber Pakhtunkhwa government on August 5 had issued a threat letter on the directives of Chief Minister Mahmood Khan which stated that a Tehreek-i-Taliban Pakistan (TTP) splinter group may target Arshad Sharif. "In this regard, no info was shared with the institutions who provided them the information."
This shows the threat alert was issued with the aim to force Arshad Sharif to leave the country, Gen Iftikhar said. "There were reports that he (Arshad Sharif) did not want to leave the country but he kept being reminded that he was facing a threat to his life," he said.
He said that when ARY News head Ammad Yousuf, who was arrested in August, it emerged that ARY CEO Salman Iqbal had asked the former to send Sharif abroad as soon as possible.
"On Aug 10, he left Peshawar airport thorough PK-637 for Dubai. He was provided complete protocol by the KP government," he said, adding that the late journalist was escorted by KP officers to the airport.
"Arshad remained in the UAE until he had a valid visa. He left for Kenya when his visa for Dubai expired."
He said that no one "forced" Sharif to leave Dubai at a government level and questioned who exactly forced him to leave. He also questioned who processed the journalist's documents in the UAE, who looked after his accommodation, who forced him to not return to Pakistan and who assured him that he was safe in Kenya.
The DG ISPR went on to say that the name of the ARY CEO was surfacing again and again. "He should be brought back to Pakistan and made part of the probe."
DG ISI's first public appearance
In an unprecedented move, the ISI chief also made an appearance in today's press conference — the first time in Pakistan's history.
"I am aware that you are surprised by my presence," he said, adding that he had appeared for his institution and the officers who were sacrificing their lives. "As chief of this agency, I cannot remain silent when they are targeted for no reason."
Lt Gen Anjum said the nation had given him the responsibility to take secrets to the grave. "But when needed and when necessary, I will bring those facts to light".
Lt Gen Anjum also made the revelation that in March, Gen Bajwa was given a "lucrative offer" for an extension in his tenure. "It was made in front of me. He rejected it because he wanted the institution to move forward from a controversial role to a constitutional role."
Seemingly talking about former premier Imran, the ISI chief said that while citizens had the right to their opinion, why did "you praise him so much in the past if he was a traitor?"
"If you see him as a traitor, then why do you meet him through the back door? […] Don't do this where you meet quietly at night through the back door and express your unconstitutional wishes but call [the army chief] a traitor in broad daylight. That's a big contradiction between your words and your actions."
PTI terminates Faisal Vawda's party membership
Pakistan Tehreek-i-Insaf (PTI) Chairman Imran Khan on Saturday terminated the basic party membership of Faisal Vawda, days after a contentious press conference that was disowned by the party leadership.
The Wednesday press conference, in which he said the party's march to Islamabad would be "bloody", was panned by the party leadership and spurred the issuance of a show-cause notice.
The termination, a letter of which was tweeted by PTI's official Twitter account today, comes after Vawda failed to "respond to the notice within the stipulated timeline" — that was given to him to clarify his stance.
AUTOMOBILE ASSEMBLER

SCRIP
LDCP
OPEN
HIGH
LOW
CURRENT
CHANGE
VOLUME
Al-Ghazi Tractors Limited.
335.00
335.10
340
335.1
340
 5
1,000
Atlas Honda Limited.
339.99
335.00
339.99
335
335
 -4.99
1,600
Dewan Farooque Motors Limited [ DEFAULTER SEGMENT ]
9.43
9.43
9.85
8.71
8.80
 -.63
3,023,000
Ghandhara Industries Ltd.
130.18
134.95
134.95
123.15
123.69
 -6.49
134,900
Ghandhara Nissan Ltd.
50.40
50.50
50.5
48.4
48.48
 -1.92
147,500
Honda Atlas Cars (Pak) Ltd.
158.26
159.00
168.8
151.52
162.39
 4.13
184,256
Indus Motor Company Ltd.
923.31
934.43
934.43
895
901.74
 -21.57
3,824
Millat Tractors Limited.(XD)(XB)
680.43
680.43
683.5
660
664.57
 -15.86
113,745
Pak Suzuki Motors Co Ltd.
159.87
164.60
164.6
150.05
151.83
 -8.04
166,394
Sazgar Engineering Works Ltd.
55.13
54.10
54.1
51.01
51.16
 -3.97
93,500
AUTOMOBILE PARTS & ACCESSORIES

SCRIP
LDCP
OPEN
HIGH
LOW
CURRENT
CHANGE
VOLUME
Agriautos Industries Co. Ltd.(XB)
84.95
84.95
85
83.94
85
 .05
3,700
Atlas Battery Ltd.
144.73
145.00
155.58
140
152.73
 8
20,500
Baluchistan Wheels Ltd.
64.55
69.33
69.33
69.33
69.33
 4.78
500
Exide Pakistan Ltd.
225.86
230.95
230.95
219.9
224.24
 -1.62
2,700
Ghandhara Tyre & Rubber Company Ltd.(XD)
30.50
30.01
31.5
29.83
30.93
 .43
39,000
Loads Limited.
8.52
8.46
8.76
8.1
8.18
 -.34
396,500
Panther Tyres Limited (XD)
27.16
26.31
26.4
25.13
25.20
 -1.96
307,500
Thal Limited.(XD)
263.56
260.01
264.8
260
264
 .44
3,000
CABLE & ELECTRICAL GOODS

SCRIP
LDCP
OPEN
HIGH
LOW
CURRENT
CHANGE
VOLUME
EMCO Industries Ltd.(XD)
23.74
23.00
25.49
23
25.25
 1.51
1,500
Johnson & Philips (Pak) Ltd.
37.50
34.75
34.75
34.69
34.69
 -2.81
1,500
Pak Elektron Ltd.
15.76
15.52
15.7
15.15
15.44
 -.32
2,726,500
Pakistan Cables Ltd.
119.99
121.00
121
118.02
118.03
 -1.96
3,700
Siemens (Pak) Eng. Co. Ltd.
830.00
829.50
829.5
829.5
829.50
 -.5
50
WAVES Corporation Limited
11.02
10.97
11
10.06
10.25
 -.77
1,216,000
Waves Home Appliances Ltd.
10.59
10.68
10.68
10
10.08
 -.51
29,500
CEMENT

SCRIP
LDCP
OPEN
HIGH
LOW
CURRENT
CHANGE
VOLUME
Attock Cement Pak Ltd. (XD)
80.00
77.03
79.76
77
79.36
 -.64
17,500
Bestway Cement Limited.
138.03
138.00
139
137.5
138.43
 .4
18,600
Cherat Cement Co. Ltd.
123.41
123.41
123.41
118.5
120.19
 -3.22
375,879
D. G. Khan Cement Co. Ltd.(XD)
53.35
53.80
53.8
51.6
51.88
 -1.47
892,994
Dandot Cement Co. Ltd. [ DEFAULTER SEGMENT ]
6.35
6.60
6.9
6
6
 -.35
15,000
Dewan Cement Limited.
5.36
5.37
5.44
5.19
5.21
 -.15
443,000
Fauji Cement Co Ltd.(XB)
14.39
14.20
14.39
14.05
14.26
 -.13
1,786,500
Fecto Cement Ltd.
27.01
0.0
27.01
27.01
27.01
 0
500
Flying Cement Company Ltd.
7.61
7.70
7.81
7.11
7.24
 -.37
1,296,000
Gharibwal Cement Ltd.(XD)
18.76
18.60
18.6
18.05
18.06
 -.7
140,000
Kohat Cement Co. Ltd.
159.04
163.99
164.89
154.99
156.56
 -2.48
69,932
Lucky Cement Limited.
493.08
494.90
494.99
478.23
480.65
 -12.43
225,543
Maple Leaf Cement Factory Ltd.
27.20
27.00
27
26.1
26.28
 -.92
1,788,296
Pioneer Cement Ltd.
69.74
69.00
69.68
67
67.41
 -2.33
472,899
Power cement Limited
4.59
4.53
4.74
4.46
4.54
 -.05
470,000
Safe Mix Concrete Ltd.
13.68
14.47
14.7
13
14.68
 1
75,500
Thatta Cement Company Ltd.
13.33
13.15
13.39
12.8
13.20
 -.13
296,000
CHEMICAL

SCRIP
LDCP
OPEN
HIGH
LOW
CURRENT
CHANGE
VOLUME
Agritech Limited
5.61
5.71
5.8
5.51
5.54
 -.07
151,000
Archroma Pakistan Limited.
532.01
536.97
536.97
515.01
515.81
 -16.2
1,500
Berger Paints Pakistan Ltd.(XD)
72.79
69.02
70.99
67.51
68.79
 -4
15,000
Buxly Paints Ltd.
92.74
91.01
92.74
90
90.08
 -2.66
6,900
Colgate Palmolive (Pak) Ltd.
2,068.18
2050.00
2050
2030
2039
 -29.18
260
Descon Oxychem Ltd.(XD)
21.79
21.61
21.66
21
21.20
 -.59
109,500
Engro Polymer & Chemicals Ltd. (XD)
52.94
52.94
53.3
52.3
52.48
 -.46
360,608
G3 Technologies Limited
8.85
8.81
8.81
8.55
8.58
 -.27
2,683,500
Ghani Global Holdings Limited.
15.93
16.07
16.07
15.3
15.34
 -.59
3,872,177
ICI Pakistan Limited.
675.51
675.00
675
675
675
 -.51
1,500
Ittehad Chemical Ltd.
29.26
29.00
29
29
29
 -.26
500
Lotte Chemical Pakistan Ltd.
28.84
28.90
29
27.95
28.16
 -.68
1,509,761
Nimir Resins Limited.
13.50
13.40
13.4
12.92
13.29
 -.21
30,500
Pakistan Oxygen Limited.
130.25
130.25
130.25
128
128.01
 -2.24
500
Sitara Peroxide Limited
17.12
16.80
17.2
15.84
15.90
 -1.22
122,500
Wah Noble Chemicals Ltd.(XD)
156.91
0.0
156.91
156.9068
156.91
 .0032
100
CLOSE – END MUTUAL FUND

SCRIP
LDCP
OPEN
HIGH
LOW
CURRENT
CHANGE
VOLUME
HBL Investment Fund
2.00
2.00
2
1.82
1.90
 -.1
24,500
COMMERCIAL BANKS

SCRIP
LDCP
OPEN
HIGH
LOW
CURRENT
CHANGE
VOLUME
Allied Bank Ltd.
63.08
63.85
63.85
63
63.10
 .02
1,500
Askari Bank Limited.
18.80
18.95
19.1
18.8
19.01
 .21
44,500
Bank Al-Habib Ltd.
53.28
54.55
54.55
52.75
53.38
 .1
461,925
Bank Alfalah Ltd.
30.80
31.30
31.3
30.11
30.96
 .16
16,775
Bank Of Punjab.
5.31
5.43
5.43
5.1
5.13
 -.18
2,976,500
Bankislami Pakistan Ltd.
10.70
10.60
11.1
10.57
10.66
 -.04
510,500
Faysal Bank Limited.
27.69
29.76
29.76
29.12
29.76
 2.07
6,359,500
Habib Bank Limited.
69.78
70.88
70.88
69.13
69.55
 -.23
356,998
Habib Metropolitan Bank Limited.
34.06
34.00
34.45
33.97
34.01
 -.05
54,500
JS Bank Limited.
3.61
3.80
3.82
3.75
3.82
 .21
14,000
MCB Bank Limited.
120.49
120.99
120.99
119.75
120.51
 .02
70,661
Meezan Bank Limited.(XD)
107.41
107.07
107.99
106.6
107.10
 -.31
170,362
National Bank Of Pakistan.(XD)
25.63
25.50
25.68
25
25.41
 -.22
72,500
Samba Bank Limited.
5.86
6.50
6.5
6.5
6.50
 .64
500
Silk Bank Limited.
1.09
1.08
1.08
1.03
1.04
 -.05
2,350,000
Soneri Bank Ltd.
10.00
9.80
9.81
9.8
9.81
 -.19
12,500
Standard Chartered Bank Pak Ltd.
19.50
19.01
20.05
19.01
20
 .5
21,000
Summit Bank Limited.
1.52
1.52
1.57
1.47
1.50
 -.02
108,500
The Bank of Khyber.
12.90
12.98
12.98
12.98
12.98
 .08
500
United Bank Ltd.
112.30
112.93
113.5
111.25
111.68
 -.62
377,111
ENGINEERING

SCRIP
LDCP
OPEN
HIGH
LOW
CURRENT
CHANGE
VOLUME
Agha Steel Industries Ltd.
14.42
14.50
14.5
13.8
13.84
 -.58
88,000
Aisha Steel Mills Limited.
9.14
9.07
9.07
8.8
8.84
 -.3
310,509
Amreli Steels Limited.
24.35
24.75
24.75
23.5
23.66
 -.69
120,639
Beco Steel Limited(XD)
11.84
12.20
12.35
11.4
11.61
 -.23
52,500
Crescent Steel & Allied Product.
38.46
38.26
39
38.26
38.53
 .07
82,000
Dadex Eternit Ltd.
46.09
45.01
46.45
44.01
46.45
 .36
3,500
Dost Steels Ltd. [ DEFAULTER SEGMENT ]
5.37
5.30
5.55
5.01
5.22
 -.15
96,500
Huffaz Seamless Pipe Industries. [ DEFAULTER SEGMENT ]
8.50
8.00
8.05
8
8.03
 -.47
2,000
International Industries Ltd.
94.27
95.98
95.98
93
93.79
 -.48
117,320
International Steels Limited.
52.00
52.02
52.15
51
51.51
 -.49
349,533
Ittefaq Iron Industries Limited.
6.65
6.60
6.6
6.4
6.46
 -.19
66,500
KSB Pumps Co Ltd.
98.00
103.81
105.35
103.81
105.35
 7.35
1,000
Mughal Iron & Steels Ind Ltd.
64.05
65.10
65.1
61
61.54
 -2.51
197,884
EXCHANGE TRADED FUNDS

SCRIP
LDCP
OPEN
HIGH
LOW
CURRENT
CHANGE
VOLUME
HBL Total Treasury ETF
10.21
10.21
10.21
10.21
10.21
 0
500
JS Momentum Factor ETF
8.58
0.0
8.58
8.58
8.58
 0
40,000
Meezan Pakistan ETF
8.10
8.06
8.06
7.95
7.99
 -.11
12,500
UBL Pakistan Enterprise ETF.
10.33
10.35
10.35
10.35
10.35
 .02
1,000
FERTILIZER

SCRIP
LDCP
OPEN
HIGH
LOW
CURRENT
CHANGE
VOLUME
Arif Habib Corporation Ltd.(XD)
34.46
32.38
34.89
32.38
34.39
 -.07
2,000
Engro Corporation Limited.(XD)
235.54
233.60
236.36
232
234.62
 -.92
464,273
Engro Fertilizers Limited. (XD)
81.94
81.94
81.95
81.01
81.28
 -.66
397,000
Fatima Fertilizer Co Ltd.
35.50
35.80
36
35.02
35.18
 -.32
39,927
Fauji Fertilizer Bin Qasim Ltd.
18.46
18.55
18.7
17.85
18.53
 .07
1,315,500
Fauji Fertilizer Co. Ltd.
103.05
102.60
103.8
102.5
103.27
 .22
526,082
FOOD & PERSONAL CARE PRODUCTS

SCRIP
LDCP
OPEN
HIGH
LOW
CURRENT
CHANGE
VOLUME
Al-Shaheer Corporation.
13.26
13.08
13.14
12.92
13.03
 -.23
418,910
At-Tahur Ltd.
22.96
23.00
23.5
23
23.01
 .05
74,500
Bunnys Limited
21.00
21.50
21.5
20
20.35
 -.65
10,500
Clover Pakistan Limited.
20.30
20.00
20
19.5
19.61
 -.69
28,500
Fauji Foods Limited.
5.95
5.99
5.99
5.5
5.55
 -.4
7,411,936
Frieslandcampina Engro Pakistan Ltd.
67.98
69.50
71.5
67
69.04
 1.06
84,889
Gillette Pakistan Limited
126.19
121.00
121
116.73
116.92
 -9.27
800
Matco Foods Limited.
35.30
34.50
35.35
33.5
33.65
 -1.65
37,000
Mitchells Fruit Farms Ltd.
77.57
77.00
77.75
75.7
76.08
 -1.49
19,000
Murree Brewery Company Ltd. (XD)
382.89
380.00
397.98
380
391.99
 9.1
300
National Foods Ltd.
122.01
122.00
122.5
119.1
119.54
 -2.47
7,300
Nestle Pakistan Ltd.
5,980.00
5980.00
5980
5980
5980
 0
20
Quice Food Industries Ltd.
3.80
3.80
3.81
3.8
3.80
 0
213,000
Shezan International Ltd.(XD)
158.00
157.51
169.84
154
165.08
 7.08
2,300
Shield Corporation Ltd.
298.00
320.00
320
320
320
 22
100
The Organic Meat Company Ltd.(XB)
22.84
22.99
23.79
22.5
22.64
 -.2
141,000
Treet Corporation Ltd.
22.19
22.01
22.3
21.65
21.74
 -.45
729,500
Unity Foods Limited.
20.41
20.20
20.43
19.51
19.70
 -.71
1,915,927
FUTURE CONTRACTS

SCRIP
LDCP
OPEN
HIGH
LOW
CURRENT
CHANGE
VOLUME
AGHA-OCT
14.43
14.00
14
13.86
13.89
 -.54
13,000
AGL-NOV
5.70
5.60
5.65
5.5
5.59
 -.11
45,000
AGL-OCT
5.65
5.60
5.6
5.47
5.52
 -.13
142,500
AIRLINK-OCTB
36.03
34.60
34.6
34.6
34.60
 -1.43
1,500
AIRLINK-NOVB
36.57
0.0
36.57
36.57
36.57
 0
1,145,000
ASL-OCT
9.20
8.81
9
8.8
8.80
 -.4
31,000
ASL-NOV
9.27
8.29
9.01
8.29
9
 -.27
31,500
ASC-OCT
13.27
13.11
13.11
12.9
13
 -.27
3,048,000
ASC-NOV
13.42
13.20
13.34
13.1
13.23
 -.19
3,039,500
ASTL-OCT
24.42
24.10
24.42
23.25
23.48
 -.94
171,500
ASTL-NOV
24.96
24.35
24.96
24
24
 -.96
151,000
AKBL-NOV
19.09
19.25
19.25
19.25
19.25
 .16
10,000
ATRL-NOV
167.82
167.00
167.99
164.1
165.29
 -2.53
1,771,000
ATRL-OCTB
165.92
165.00
165.85
162.71
163.17
 -2.75
909,500
AVN-OCT
76.28
74.11
76
74
74.19
 -2.09
1,052,500
AVN-NOV
77.15
77.00
77
75
75.16
 -1.99
1,435,500
ANL-OCT
9.47
9.32
9.39
9
9.07
 -.4
653,000
ANL-NOV
9.61
9.50
9.5
9.13
9.23
 -.38
571,500
BAHL-OCT
53.31
53.25
53.31
53
53
 -.31
472,000
BAHL-NOV
54.11
54.00
54.11
54
54
 -.11
471,000
BAFL-OCT
30.82
0.0
30.82
30.82
30.82
 0
803,000
BAFL-NOV
31.28
0.0
31.28
31.28
31.28
 0
803,000
BOP-OCT
5.30
5.39
5.4
5.02
5.12
 -.18
2,220,000
BOP-NOV
5.35
5.42
5.46
5.2
5.24
 -.11
1,203,500
CHCC-OCTB
122.47
122.00
122.95
119.01
119.70
 -2.77
91,500
CHCC-NOVB
122.80
122.90
123.5
119
119.83
 -2.97
102,000
CPHL-NOV
29.67
27.50
28.5
27.5
27.89
 -1.78
6,500
CPHL-OCT
28.98
28.50
28.5
28
28.20
 -.78
44,000
CNERGY-NOV
4.87
4.82
4.87
4.7
4.73
 -.14
12,274,000
CNERGY-OCT
4.80
4.84
4.85
4.63
4.65
 -.15
13,068,500
DGKC-OCTB
53.48
53.10
53.88
51.56
51.81
 -1.67
871,000
DGKC-NOVB
54.05
53.50
54
52.22
52.53
 -1.52
844,000
DCL-OCT
5.31
5.28
5.33
5.2
5.20
 -.11
49,000
ENGRO-NOVB
238.00
236.00
236
236
236
 -2
2,000
EFERT-NOVB
83.21
82.45
82.45
82.45
82.45
 -.76
5,000
EPCL-OCTC
53.00
53.00
53
51.8
52.36
 -.64
86,500
EPCL-NOVB
53.72
53.69
53.7
53
53.02
 -.7
52,000
EPQL-OCTC
23.33
0.0
23.33
23.33
23.33
 0
100,000
EPQL-NOVB
23.68
23.14
23.14
23.14
23.14
 -.54
100,000
FCCL-OCTB
14.36
14.20
14.29
14.15
14.29
 -.07
261,500
FCCL-NOVB
14.60
14.44
14.5
14.3
14.46
 -.14
804,000
FFBL-NOV
18.56
18.75
18.75
18.2
18.40
 -.16
102,000
FFBL-OCT
18.45
18.60
18.6
17.95
18.40
 -.05
114,500
FFC-OCT
102.00
105.75
105.75
102
102
 0
6,000
FFC-NOV
103.08
103.75
103.75
102
102
 -1.08
1,000
FFL-NOV
6.00
5.90
5.95
5.6
5.66
 -.34
5,100,000
FFL-OCT
5.85
5.90
5.97
5.5
5.55
 -.3
1,593,000
FABL-NOV
27.95
30.04
30.04
29.81
29.99
 2.04
560,000
FABL-OCTB
27.65
29.72
29.72
26.1
29.57
 1.92
275,500
FLYNG-NOV
7.70
7.55
7.57
7.3
7.31
 -.39
307,500
FLYNG-OCT
7.60
7.60
7.6
7.1
7.21
 -.39
764,000
FCEPL-OCT
68.02
69.00
69
69
69
 .98
2,500
GTECH-NOVB
8.85
8.85
8.85
8.5
8.55
 -.3
52,000
GTECH-OCTB
8.92
8.81
8.89
8.5
8.56
 -.36
1,440,500
GHNI-NOV
131.88
130.05
130.5
124.8
125.31
 -6.57
261,500
GHNI-OCT
129.90
128.80
129
123
123.68
 -6.22
233,000
GGGL-NOV
9.92
9.90
9.9
9.3
9.32
 -.6
275,500
GGGL-OCT
9.82
9.53
9.79
9.05
9.20
 -.62
784,500
GGL-NOV
16.14
16.20
16.2
15.51
15.56
 -.58
7,116,000
GGL-OCT
15.99
15.61
15.99
15.24
15.34
 -.65
6,858,000
GATM-NOV
28.60
28.69
29
27.01
27.10
 -1.5
938,500
GATM-OCT
28.37
28.40
28.76
27.2
27.50
 -.87
55,000
HBL-NOV
70.23
71.40
71.4
69.7
69.86
 -.37
97,500
HBL-OCT
69.85
69.00
69.85
67.75
69.40
 -.45
183,000
HUBC-OCTB
65.50
64.80
65.5
64.5
64.65
 -.85
477,000
HUBC-NOVB
66.41
66.47
66.47
65
65.37
 -1.04
469,000
HUMNL-NOV
6.70
6.60
6.7
6.37
6.37
 -.33
3,134,500
HUMNL-OCT
6.61
6.65
6.65
6.33
6.35
 -.26
4,366,500
INIL-NOV
95.80
95.20
95.4
94.01
95.01
 -.79
101,000
INIL-OCTB
95.00
94.00
94
91
94
 -1
95,500
ISL-NOV
52.85
52.49
52.5
51.8
52.27
 -.58
184,500
ISL-OCTB
52.17
51.44
52.17
50.05
51.42
 -.75
125,500
KEL-OCT
2.84
2.78
2.79
2.51
2.72
 -.12
12,027,500
KEL-NOV
2.85
2.83
2.83
2.73
2.76
 -.09
17,307,500
KAPCO-OCTB
26.51
26.45
26.75
25.75
26.01
 -.5
1,339,000
KAPCO-NOVB
26.80
26.85
26.85
26.2
26.37
 -.43
932,000
LOADS-NOV
8.69
8.50
8.5
8.25
8.25
 -.44
11,500
LOADS-OCT
8.49
8.45
8.66
8
8.21
 -.28
46,000
LOTCHEM-NOV
29.05
29.00
29
28.1
28.41
 -.64
1,073,500
LOTCHEM-OCTB
28.76
28.70
28.7
27.4
28.17
 -.59
1,202,000
LUCK-OCT
493.08
494.00
494
480
480.79
 -12.29
139,500
LUCK-NOV
499.21
501.00
501
485.5
487.36
 -11.85
196,500
MLCF-OCT
27.19
27.00
27.25
26
26.24
 -.95
1,898,000
MLCF-NOV
27.52
27.35
27.35
26.4
26.57
 -.95
1,111,000
MCB-NOV
119.99
118.00
118
118
118
 -1.99
500
MCB-OCTB
120.00
120.50
120.5
120
120
 0
5,000
MEBL-NOVB
109.50
109.49
109.49
109.49
109.49
 -.01
500
MTL-OCTB
680.79
730.00
730
730
730
 49.21
70,000
MUGHAL-NOV
64.50
62.75
64.25
62.1
62.45
 -2.05
134,000
MUGHAL-OCT
64.00
62.00
63.55
61.5
61.50
 -2.5
133,500
NBP-NOV
26.03
0.0
26.03
26.03
26.03
 0
20,000
NBP-OCT
25.64
25.00
25.64
25
25.02
 -.62
22,000
NRL-OCTB
209.45
208.00
209
204.55
205.43
 -4.02
369,500
NRL-NOVB
212.25
210.00
211.5
207.02
208.19
 -4.06
482,000
NETSOL-OCT
105.43
104.10
105.1
100
101.09
 -4.34
1,326,500
NETSOL-NOV
107.12
106.00
106
101.31
102.30
 -4.82
2,080,500
NCL-OCTB
31.15
30.65
31.15
28.82
28.82
 -2.33
254,500
NCL-NOVB
31.54
31.00
31.54
29.18
29.18
 -2.36
279,000
NCPL-DEC
15.61
14.44
14.44
14.44
14.44
 -1.17
6,000
NCPL-NOV
15.38
15.48
15.84
14.23
14.35
 -1.03
1,096,000
NCPL-OCTB
15.13
15.00
15.45
14
14.17
 -.96
549,500
NML-OCTB
61.76
62.00
62
58.75
60.56
 -1.2
281,500
NML-NOVB
62.29
62.80
63
60.6
61.52
 -.77
156,000
NPL-OCTB
19.55
19.88
19.88
19.36
19.36
 -.19
2,500
NPL-NOVC
18.29
18.25
18.25
17.97
17.97
 -.32
215,000
OGDC-OCTB
71.27
71.00
71.2
70.1
70.34
 -.93
710,500
OGDC-NOVB
71.44
71.25
71.8
70.5
70.66
 -.78
677,500
PAEL-OCT
15.68
15.48
15.59
15.12
15.20
 -.48
2,179,500
PAEL-NOV
15.89
15.65
15.7
15.32
15.39
 -.5
1,309,000
PIAA-NOV
4.19
4.00
4
4
4
 -.19
45,000
PIAA-OCT
3.89
3.95
3.95
3.71
3.82
 -.07
314,000
PSMC-OCT
160.77
159.00
159
150.51
151.57
 -9.2
85,000
PSMC-NOV
163.81
161.10
161.1
151.56
152.39
 -11.42
71,500
PABC-NOV
46.00
44.50
46.39
44.5
45.73
 -.27
167,000
PABC-OCT
45.00
44.44
45.99
44.44
44.80
 -.2
279,000
PIBTL-OCT
5.27
5.24
5.25
5.01
5.08
 -.19
868,500
PIBTL-NOV
5.56
5.25
5.48
5.15
5.23
 -.33
472,500
POL-NOV
390.00
403.99
403.99
389
393
 3
67,000
POL-OCTB
391.00
404.49
404.49
382
383
 -8
74,000
PPL-OCTB
52.92
52.90
53.09
50.49
50.93
 -1.99
653,500
PPL-NOVB
53.56
53.60
53.75
51.15
51.56
 -2
973,500
PRL-OCT
16.96
16.80
16.8
16.11
16.30
 -.66
5,867,500
PRL-NOV
17.17
17.00
17.15
16.36
16.52
 -.65
5,137,000
PSO-NOVB
150.58
147.00
147
143
143.44
 -7.14
1,517,000
PSO-OCTB
148.62
143.50
144.5
141
141.46
 -7.16
1,511,000
PTC-OCT
6.88
6.70
6.81
6.6
6.62
 -.26
5,175,000
PTC-NOV
6.95
6.95
6.95
6.7
6.74
 -.21
5,100,500
PIOC-OCT
69.48
69.00
69.48
67
67.30
 -2.18
931,000
PIOC-NOV
70.32
69.61
69.9
67.85
68.23
 -2.09
1,061,000
POWER-OCT
4.50
4.50
4.54
4.4
4.47
 -.03
228,000
POWER-NOV
4.55
4.60
4.6
4.5
4.50
 -.05
95,500
SHEL-NOVB
132.02
132.52
132.52
130.57
130.57
 -1.45
14,000
SILK-OCT
1.05
1.07
1.07
1.01
1.04
 -.01
173,500
SNGP-OCTB
35.00
35.00
35.2
34.5
34.60
 -.4
612,000
SNGP-NOVB
35.33
35.40
35.6
34.8
34.91
 -.42
803,000
SSGC-OCT
9.20
9.01
9.01
8.8
8.85
 -.35
1,526,500
SYS-NOV
439.03
440.00
451
433.75
442.56
 3.53
144,000
SYS-OCT
435.52
434.55
445.2
430.11
437.18
 1.66
124,000
TGL-OCTB
81.26
78.05
79
78
78
 -3.26
115,000
TGL-NOVB
80.86
79.00
80
79
79.14
 -1.72
140,500
TELE-OCTB
10.14
10.00
10.1
9.5
9.58
 -.56
4,708,000
TELE-NOVB
10.26
10.16
10.16
9.66
9.75
 -.51
4,115,500
SEARL-OCTB
78.49
77.50
77.5
74.5
74.60
 -3.89
128,500
SEARL-NOVB
79.11
78.00
78
75.5
75.67
 -3.44
96,000
TPL-OCT
7.33
7.20
7.24
6.65
6.74
 -.59
847,000
TPL-NOV
7.38
7.19
7.37
6.79
6.88
 -.5
529,000
TPLP-DEC
18.25
17.15
17.15
16.89
17.05
 -1.2
1,500
TPLP-OCTB
17.59
17.51
17.58
16.39
16.58
 -1.01
8,782,500
TPLP-NOVB
17.84
17.80
17.8
16.69
16.81
 -1.03
8,288,000
TREET-OCT
22.39
22.25
22.3
21
21.73
 -.66
780,500
TREET-NOV
22.60
22.50
23.4
22.01
22.04
 -.56
837,500
TRG-DEC
109.38
111.05
112.45
109.38
110.88
 1.5
20,500
TRG-OCT
115.37
115.37
115.5
107.5
108.77
 -6.6
3,739,500
TRG-NOV
116.39
116.80
117.05
109.11
110.39
 -6
10,975,500
UBL-OCTB
112.36
111.50
111.5
111.5
111.50
 -.86
1,500
UNITY-OCT
20.37
20.37
20.37
19.51
19.71
 -.66
9,240,000
UNITY-NOV
20.63
20.60
20.6
19.7
19.97
 -.66
9,701,000
WAVES-OCTB
11.02
10.95
10.97
10.2
10.25
 -.77
1,071,000
WAVES-NOV
11.17
11.11
11.4
10.32
10.98
 -.19
716,500
WTL-OCT
1.39
1.40
1.4
1.29
1.31
 -.08
13,214,000
WTL-NOV
1.41
1.39
1.4
1.32
1.34
 -.07
9,074,500
YOUW-NOV
4.84
5.65
5.8
4.8
4.80
 -.04
61,500
YOUW-OCT
4.80
5.19
5.19
4.4
4.55
 -.25
170,500
GLASS & CERAMICS

SCRIP
LDCP
OPEN
HIGH
LOW
CURRENT
CHANGE
VOLUME
Balochistan Glass Ltd.
8.09
8.05
8.05
7.68
7.77
 -.32
515,500
Ghani Glass Ltd.
39.77
39.16
39.7
39.16
39.55
 -.22
7,500
Ghani Global Glass Limited.
9.81
9.75
9.98
8.88
9.19
 -.62
1,245,000
Ghani Value Glass Limited.(XB)
56.01
56.00
56.5
55.85
55.85
 -.16
2,500
Shabbir Tiles and Ceramics Limited.(XD)
12.50
12.32
12.32
11.62
11.73
 -.77
59,500
Tariq Glass.(XD)(XB)
80.39
80.39
80.39
78.05
78.41
 -1.98
398,395
INSURANCE

SCRIP
LDCP
OPEN
HIGH
LOW
CURRENT
CHANGE
VOLUME
Adamjee Insurance Co. Ltd.
29.95
30.26
30.26
30.26
30.26
 .31
1,500
Adamjee Life Assurance Co. Ltd.
19.60
18.15
18.45
18.15
18.45
 -1.15
1,000
Century Insurance Co.Ltd.
16.50
17.18
17.18
17.18
17.18
 .68
1,000
Cresent Star Insurance Ltd.
1.67
1.61
1.69
1.61
1.61
 -.06
199,000
Habib Insurance Co Ltd.
6.09
5.76
5.76
5.56
5.56
 -.53
7,500
IGI Holdings Limited.
94.03
90.00
94.1
90
93.77
 -.26
1,200
IGI Life Insurance Ltd.
13.05
12.50
13.98
12.05
13.59
 .54
142,500
Jubilee General Insurance Co.Ltd.
27.53
28.49
28.49
28.49
28.49
 .96
500
Jubliee Life Insurance Co Ltd.
141.11
131.55
141.11
131.55
141.11
 0
100
Pakistan General Insurance Co. [ DEFAULTER SEGMENT ]
6.95
7.75
7.75
6.49
6.49
 -.46
2,500
Pakistan Reinsurance Comp.
7.55
7.75
7.75
7.37
7.40
 -.15
484,000
PICIC Insurance Ltd. [ DEFAULTER SEGMENT ]
0.97
0.62
.91
.62
0.90
 -.07
4,000
Premier Insurance Limited.
4.71
5.00
5
4.5
4.50
 -.21
2,500
Shaheen Insurance Co Ltd.
3.50
3.15
3.15
3.15
3.15
 -.35
4,000
TPL Insurance Ltd.(XB)
20.00
18.70
20.5
18.7
20.30
 .3
58,000
United Insurance Company.
7.50
7.74
7.99
7.5
7.91
 .41
48,500
INV. BANKS / INV. COS. / SECURITIES COS.

SCRIP
LDCP
OPEN
HIGH
LOW
CURRENT
CHANGE
VOLUME
Arif Habib Limited.(XD)
37.26
37.40
37.4
36.7
36.70
 -.56
4,000
Cyan Limited.
22.50
22.00
22.5
22
22
 -.5
8,500
Dawood Equities Ltd.
5.25
5.10
5.4
5
5.38
 .13
12,000
Dawood Hercules Corporation Ltd.
96.00
96.10
96.49
95.5
95.81
 -.19
19,000
Dawood Lawrencepur Ltd.
205.66
205.00
211.99
205
211.97
 6.31
900
EFG Hermes Pakistan Ltd.
15.71
15.51
15.7
15
15.70
 -.01
6,500
Escorts Investment Bank Ltd.
4.79
4.80
4.8
4.33
4.48
 -.31
4,000
First Capital Sec.Corp. Ltd.
1.44
1.43
1.43
1.35
1.37
 -.07
52,500
First Dawood Investment Bank Ltd.
1.98
1.95
2
1.9
1.94
 -.04
16,000
First National Equities Limited.
4.80
4.90
4.9
4.7
4.75
 -.05
369,000
Invest Capital Investment Bank Ltd.
1.32
1.32
1.32
1.28
1.30
 -.02
35,000
Jahangir Siddiqui & Co. (Pref Sh.)
8.97
8.25
8.25
8.25
8.25
 -.72
3,000
Jahangir Siddiqui & Company Ltd.
12.30
12.47
12.75
12.4
12.50
 .2
166,000
JS Global Capital Limited.
79.95
84.75
84.75
84.75
84.75
 4.8
500
Next Capital Limited.(XB)
6.65
6.03
6.89
6.03
6.46
 -.19
1,000
OLP Financial Services Pakistan Ltd.(XD)
19.93
19.90
20
19.72
19.98
 .05
12,500
Pakistan Stock Exchange Limited.
9.70
9.70
9.7
9.5
9.54
 -.16
331,500
Pervez Ahmed Consultancy Services Ltd. [ DEFAULTER SEGMENT ]
0.82
0.80
.83
.8
0.81
 -.01
15,500
LEATHER & TANNERIES

SCRIP
LDCP
OPEN
HIGH
LOW
CURRENT
CHANGE
VOLUME
Bata Pakistan Ltd.
2,100.00
1960.00
1960
1960
1960
 -140
40
Pak Leather Crafts Ltd.
12.87
13.87
13.87
13.87
13.87
 1
1,500
Service Global Footwear Limited.
34.99
34.51
36.49
33.01
34.81
 -.18
75,000
Service Industries.
334.50
315.08
338
315
321.76
 -12.74
9,400
MISCELLANEOUS

SCRIP
LDCP
OPEN
HIGH
LOW
CURRENT
CHANGE
VOLUME
AKD Hospitality Limited
134.58
130.01
134.85
130.01
134.83
 .25
500
Dimond Industries Ltd.
29.27
31.46
31.46
31.46
31.46
 2.1947
1,000
GOC (PAK) Limited.(XD)
47.74
47.10
51.32
47.1
48.16
 .42
4,000
MACPAC Films Limited.
14.80
15.02
15.02
14.99
14.99
 .19
2,000
MetaTech Health Limited
10.79
10.97
10.99
10.32
10.89
 .1
73,500
Pakistan Aluminium Beverage Cans Ltd
45.30
45.00
45.98
44.5
44.80
 -.5
311,500
Pakistan Hotels Developers Ltd.(XD)
86.70
87.99
87.99
83
83
 -3.7
5,200
Shifa Int. Hospital Ltd.(XD)
136.66
140.00
140
140
140
 3.34
300
Siddiqsons Tin Plate Ltd.
8.22
8.15
8.18
8
8
 -.22
108,500
Synthetic Products Ent. Ltd.
13.07
13.13
13.13
12.86
12.86
 -.21
16,000
Tri-Pack Films Ltd.
137.00
0.0
137
137
137
 0
500
MODARABAS

SCRIP
LDCP
OPEN
HIGH
LOW
CURRENT
CHANGE
VOLUME
B.R.R. Guardian Modaraba.
11.57
11.25
11.25
10.65
10.68
 -.89
1,500
First Elite Capital Mod.
3.05
3.02
3.75
3.02
3.75
 .7
2,000
First Fidelity Leasing Mod.
2.24
2.25
2.25
2.25
2.25
 .01
2,000
First Habib Mod.(XD)
8.00
7.95
7.95
7.95
7.95
 -.05
1,000
First IBL Modaraba.
4.00
4.00
4.99
4
4.90
 .9
14,500
First Imrooz Mod.(XD)
160.00
158.00
158
158
158
 -2
500
First Pak Mod.
1.93
1.82
1.82
1.82
1.82
 -.11
26,000
First Prudential Mod.
1.85
1.62
1.62
1.62
1.62
 -.23
500
First Treet Manufacturing Modaraba.
10.00
10.00
10
10
10
 0
129,000
First UDL Mod.(XD)
6.60
6.94
7.6
6.94
6.99
 .39
11,500
KASB Modaraba.
1.39
1.28
1.4
1.28
1.40
 .01
1,500
Modarba Al-Mali.
5.45
5.60
5.9
5.5
5.50
 .05
53,500
OLP Modaraba.(XD)
14.00
14.00
14
14
14
 0
3,000
Unicap Modaraba.
2.17
2.25
2.25
2.17
2.25
 .08
2,000
OIL & GAS EXPLORATION COMPANIES

SCRIP
LDCP
OPEN
HIGH
LOW
CURRENT
CHANGE
VOLUME
Mari Petroleum Company Ltd.
1,679.76
1679.76
1680
1675
1675.12
 -4.64
29,325
Oil & Gas Development Company Ltd.(XD)
71.33
71.33
71.48
70.25
70.44
 -.89
928,073
Pakistan Oilfields Limited.
388.77
389.81
392
382.55
383.44
 -5.33
148,670
Pakistan Petroleum Limited.(XD)
53.20
53.43
53.49
50.43
51.05
 -2.15
3,886,082
OIL & GAS MARKETING COMPANIES

SCRIP
LDCP
OPEN
HIGH
LOW
CURRENT
CHANGE
VOLUME
Attock Petroleum Limited.
281.81
279.50
282.7
278.01
280.55
 -1.26
88,320
Burshane LPG (Pakistan) Limited.
20.01
19.60
19.99
18.51
18.71
 -1.3
13,500
Hascol Petroleum Ltd. [ DEFAULTER SEGMENT ]
6.41
6.49
6.49
6.14
6.16
 -.25
5,027,500
Hi-Tech Lubricants Limited.(XD)
35.58
35.50
35.5
32.92
32.92
 -2.66
225,000
Oilboy Energy Limited.
7.19
7.05
7.4
6.9
6.95
 -.24
276,000
Pakistan State Oil Co Ltd. (XD)
148.53
145.05
149
141.1
141.52
 -7.01
1,204,177
Shell Pakistan Ltd.(XD)
131.06
132.98
132.98
129.35
129.87
 -1.19
316,500
Sui Northern Gas Pipe Line Ltd.
35.22
35.40
35.4
34.47
34.54
 -.68
943,127
Sui Southern Gas Co Ltd.
9.23
9.12
9.28
8.92
8.94
 -.29
461,000
PAPER & BOARD

SCRIP
LDCP
OPEN
HIGH
LOW
CURRENT
CHANGE
VOLUME
Century Paper & Board Mills.
59.98
60.10
60.1
58
59.41
 -.57
12,500
Cherat Packaging Limited.(XB)
98.50
98.50
99
97.25
97.84
 -.66
23,400
Merit Packaging Ltd.
12.42
12.30
12.85
12.25
12.71
 .29
328,500
Packages Ltd.
399.58
400.00
400
395
395
 -4.58
500
Roshan Packages Limited.
14.00
13.90
14
13.5
13.69
 -.31
54,500
Security Papers Ltd.(XD)
102.33
100.10
107
100
101.24
 -1.09
11,500
PHARMACEUTICALS

SCRIP
LDCP
OPEN
HIGH
LOW
CURRENT
CHANGE
VOLUME
Abbott Laboratories Pak Ltd.
570.94
560.08
575
551.66
569.71
 -1.23
7,800
AGP Limited.
75.00
74.10
75.01
73
73.01
 -1.99
28,150
Citi Pharma Limited
29.22
28.56
29.3
28.01
28.21
 -1.01
419,372
Ferozsons Laboratories Ltd.
192.47
192.50
192.5
190.06
190.14
 -2.33
1,400
Glaxo SmithKline Healthcare Pak Ltd.
204.14
204.60
205.5
200
200.09
 -4.05
13,000
Glaxo SmithKline Pakistan Ltd.
111.61
112.78
112.8
110.01
111.65
 .04
24,700
Highnoon Laboratories Ltd.
546.42
549.00
557
538
543.82
 -2.6
7,150
IBL HealthCare Limited.(XD)(XB)
42.45
40.03
40.5
39.27
39.27
 -3.18
49,500
Macter International Limited.
103.10
97.00
97
95.37
95.92
 -7.18
1,000
Otsuka Pakistan Ltd.(XD)
130.00
122.00
122.03
122
122.01
 -7.99
300
Sanofi-Aventis Pakistan Ltd.
1,124.90
0.0
1124.9
1124.9
1124.9
 0
300
The Searle Company Ltd.(XB)
78.22
77.00
77.95
74.4
74.73
 -3.49
304,066
POWER GENERATION & DISTRIBUTION

SCRIP
LDCP
OPEN
HIGH
LOW
CURRENT
CHANGE
VOLUME
Altern Energy Ltd.
17.14
17.52
17.52
17
17.01
 -.13
3,500
Engro Powergen Qadirpur Ltd.(XD)
23.32
23.30
23.3
22.24
22.78
 -.54
201,000
Hub Power Company Limited.
65.84
65.50
65.8
64.56
64.75
 -1.09
1,033,784
K-Electric Limited.
2.80
2.82
2.82
2.68
2.73
 -.07
13,204,000
Kohinoor Energy Ltd.
33.56
33.95
33.95
33.45
33.77
 .21
15,500
Kohinoor Power Co Ltd.
3.75
3.60
3.6
3.6
3.60
 -.15
500
Kot Addu Power Company.(XD)
26.58
26.58
26.58
25.95
26.01
 -.57
1,459,404
LALPIR Power Limited.
12.96
13.10
13.96
13.1
13.35
 .39
1,160,500
Nishat Chunian Power Ltd.
15.11
15.30
15.5
13.98
14.18
 -.93
6,516,500
Nishat Power Limited.(XD)
20.01
19.85
20
19.49
19.57
 -.44
1,255,948
Pakgen Power Limited.
21.49
23.10
23.1
21.5
21.96
 .47
366,000
S. G. Power Ltd.
4.71
5.10
5.1
5.1
5.10
 .39
500
Saif Power Ltd.
18.90
18.70
19.14
18.7
18.86
 -.04
234,500
Tri -Star Power Ltd.
4.21
4.10
4.1
4
4.06
 -.15
9,000
PROPERTY

SCRIP
LDCP
OPEN
HIGH
LOW
CURRENT
CHANGE
VOLUME
Javedan Corporation Ltd.
52.00
55.84
55.84
54.1
54.10
 2.1
18,000
Pace (Pakistan) Ltd.
2.91
2.86
3
2.85
2.90
 -.01
231,500
TPL Properties Limited.(XB)
17.65
17.60
17.8
16.4
16.55
 -1.1
4,886,382
REAL ESTATE INVESTMENT TRUST

SCRIP
LDCP
OPEN
HIGH
LOW
CURRENT
CHANGE
VOLUME
Dolmen City REIT.
13.90
13.80
13.9
13.69
13.72
 -.18
83,000
REFINERY

SCRIP
LDCP
OPEN
HIGH
LOW
CURRENT
CHANGE
VOLUME
Attock Refinery Limited.
166.10
165.70
165.7
162.5
163.25
 -2.85
1,557,171
Cnergyico PK Limited.
4.80
4.80
4.82
4.64
4.66
 -.14
10,383,017
National Refinary Ltd. (XD)
210.05
209.00
209.11
205
205.71
 -4.34
346,053
Pakistan Refinery Ltd.
16.96
16.90
16.9
16.16
16.26
 -.7
7,041,498
SUGAR & ALLIED INDUSTRIES

SCRIP
LDCP
OPEN
HIGH
LOW
CURRENT
CHANGE
VOLUME
Adam Sugar Mills Limited.
25.10
24.25
24.88
24.02
24.88
 -.22
1,500
Al-Noor Sugar Mills Ltd.
58.50
57.01
57.01
57.01
57.01
 -1.49
500
Dewan Sugar Mills Ltd. [ DEFAULTER SEGMENT ]
2.31
2.08
2.15
2.07
2.11
 -.2
19,000
Faran Sugar Mills Ltd.
53.90
52.99
53
52.99
53
 -.9
12,500
Habib Sugar Mills Ltd.
31.70
31.52
32
31.41
32
 .3
5,000
Jauharabad Sugar Mills Ltd.
13.24
13.00
13
12.86
12.99
 -.25
10,500
Premier Sugar Mills & Distille
550.00
550.00
550
550
550
 0
500
Sakrand Sugar Mills Ltd. [ DEFAULTER SEGMENT ]
8.73
8.88
8.88
8.39
8.77
 .04
3,000
Thal Industries Corporation Ltd.
289.99
311.00
311
300
300
 10.01
200
SYNTHETIC & RAYON

SCRIP
LDCP
OPEN
HIGH
LOW
CURRENT
CHANGE
VOLUME
Gatron (Industries) Ltd.
374.54
346.50
346.5
346.5
346.50
 -28.04
100
Ibrahim Fibre Limited.
200.00
200.00
200
200
200
 0
100
Image Pakistan Limited(XB)
11.99
11.90
11.9
11.53
11.63
 -.36
220,000
Rupali Polyester Ltd.(XD)
30.12
28.50
28.99
28
28
 -2.12
43,000
TECHNOLOGY & COMMUNICATION

SCRIP
LDCP
OPEN
HIGH
LOW
CURRENT
CHANGE
VOLUME
Air Link Communication Ltd.(XD)
36.01
36.48
36.48
34.75
34.77
 -1.24
1,599,000
Avanceon Limited.
76.34
76.20
76.2
74.09
74.27
 -2.07
1,296,337
Hum Network Limited.
6.64
6.60
6.65
6.33
6.35
 -.29
3,847,500
Media Times Limited.
1.91
2.06
2.06
1.82
1.83
 -.08
130,500
NetSol Technologies Ltd.
105.70
104.95
105.3
100.01
101.04
 -4.66
1,437,640
Octopus Digital Limited
67.09
67.09
68
65
66.09
 -1
278,500
Pak Datacom Limited.(XD)
48.08
51.48
51.48
47.5
48.50
 .42
15,500
Pakistan Telecommunication Co.
6.83
6.76
6.95
6.6
6.64
 -.19
1,040,500
Systems Limited.
435.71
436.00
445.96
430.49
436.96
 1.25
551,595
Telecard Ltd.(XB)
10.12
10.19
10.19
9.5
9.58
 -.54
3,527,000
TPL CORP Limited.
7.26
7.35
7.35
6.7
6.77
 -.49
1,043,000
TPL Trakker Limited.
7.75
7.50
7.6
7.12
7.44
 -.31
118,500
TRG Pakistan Ltd.
114.88
115.01
116
107.3
108.52
 -6.36
5,797,237
Worldcall Telecom Ltd.
1.40
1.42
1.42
1.3
1.32
 -.08
25,722,000
TEXTILE COMPOSITE

SCRIP
LDCP
OPEN
HIGH
LOW
CURRENT
CHANGE
VOLUME
Artistic Denim Mills Limited.(XD)
55.56
53.51
56
53.5
55.15
 -.41
7,500
Azgard Nine Limited.
9.52
9.30
9.43
9.01
9.14
 -.38
751,830
Crescent Textile Mills Ltd.(XD)
16.45
16.50
16.5
16
16.09
 -.36
12,000
Fazal Cloth Mills Ltd.
238.99
247.90
247.9
221.07
221.09
 -17.9
700
Feroze1888 Mills Ltd.(XD)
69.50
71.45
71.45
71.45
71.45
 1.95
500
Gul Ahmed Textile Mills Ltd.
28.39
28.16
28.85
27.5
27.56
 -.83
1,052,572
Husein Industries
18.65
19.15
19.15
19.15
19.15
 .5
1,000
Interloop Limited.
61.01
61.50
61.9
59.1
60.01
 -1
67,239
Jubilee Spinning & Weaving Mil [ DEFAULTER SEGMENT ]
3.02
3.00
3.2
2.9
3.10
 .08
19,000
Kohinoor Industries Ltd.
4.76
4.52
4.77
4.5
4.75
 -.01
30,500
Kohinoor Mills Ltd.(XD)
30.96
31.00
31
30.99
31
 .04
3,500
Kohinoor Textile Mills Ltd.
52.13
54.75
54.75
51
51
 -1.13
8,500
Nishat (Chunia) Ltd.(XD)
31.26
31.04
31.04
28.92
28.92
 -2.34
475,924
Nishat Mills Ltd.(XD)
61.75
61.33
62.45
60.1
61.55
 -.2
407,396
Reliance Weaving Mills Ltd.(XD)
56.50
53.26
53.26
53.15
53.19
 -3.31
2,500
Sapphire Fibres Mills Ltd.(XD)
1,177.54
1259.00
1259
1259
1259
 81.46
20
Sapphire Textile Mills Ltd.(XD)
1,129.37
1169.90
1170
1169.9
1169.98
 40.61
120
Shams Textile Mills Ltd.
33.04
35.28
35.28
33.9
34.97
 1.93
2,000
Suraj Cotton Mills Ltd.(XD)
138.01
127.66
128
127.66
127.83
 -10.18
300
Towellers Ltd. (XD)
83.00
86.75
89.22
86.75
89.22
 6.22
10,000
Zahidjee Textile Mills Ltd.(XD)
24.00
0.0
24
24
24
 0
1,000
TEXTILE SPINNING

SCRIP
LDCP
OPEN
HIGH
LOW
CURRENT
CHANGE
VOLUME
Arctic Textile Mills Ltd.
13.06
12.06
12.2
12.06
12.20
 -.86
2,000
Bilal Fibres Ltd. [ DEFAULTER SEGMENT ]
2.41
2.25
2.41
2.24
2.24
 -.17
4,500
Chakwal Spinning Mills Limited. [ DEFAULTER SEGMENT ]
1.58
1.67
1.84
1.65
1.84
 .26
2,000
Colony Textile Mills Ltd.
3.45
3.50
3.55
3.18
3.40
 -.05
22,000
D. S. Industries Ltd.
3.02
3.19
3.2
2.91
3.02
 0
34,000
Dewan Farooque Spinning Mills Ltd.
2.19
2.19
2.2
2.1
2.13
 -.06
51,500
Ellcot Spinning Mills Ltd.(XD)
148.00
147.90
157.9
147.9
157.90
 9.9
400
Gadoon Textile Mills Ltd.
231.67
231.60
239
231.6
235.01
 3.34
38,800
Hira Textile Mills Ltd. [ DEFAULTER SEGMENT ]
1.75
1.84
1.84
1.8
1.84
 .09
3,000
Indus Dyeing & Manufacturing.
201.02
201.00
201.2
200
200.44
 -.58
1,900
J. K. Spinning Mills Ltd.(XD)
39.00
40.00
40.5
40
40.50
 1.5
1,000
Janana De Malucha Tex Mills.
46.00
42.60
42.6
42.6
42.60
 -3.4
500
Kohat Textile Mills Ltd.
14.25
13.36
13.36
13.36
13.36
 -.89
500
Kohinoor Spinning Mills Ltd.
2.87
2.86
2.89
2.8
2.81
 -.06
134,500
Nagina Cotton Mills Ltd.(XD)
62.58
62.99
65.49
62.99
65.42
 2.84
15,500
Premium Textile Mills Ltd.(XD)
651.99
674.99
698
640.1
698
 46.01
1,250
Reliance Cotton Spinning Mills.(XD)
515.00
515.00
515
515
515
 0
100
Sana Industries Ltd.(XD)
38.18
37.00
37
37
37
 -1.18
1,500
Saritow Spinning Mills Ltd.
6.68
6.44
6.45
6.13
6.37
 -.31
2,000
Service Textile Mills Ltd.
8.15
8.00
8
8
8
 -.15
3,000
Shadman Cotton Mills Ltd.
12.72
11.72
11.72
11.72
11.72
 -1
500
Sunrays Textile Mills Ltd.
180.00
178.00
178
175
176
 -4
300
TEXTILE WEAVING

SCRIP
LDCP
OPEN
HIGH
LOW
CURRENT
CHANGE
VOLUME
Shahtaj Textile Ltd.(XD)
98.45
105.00
105
105
105
 6.55
300
Yousuf Weaving Mills Limited.
4.77
4.87
4.88
4.68
4.70
 -.07
560,000
TOBACCO

SCRIP
LDCP
OPEN
HIGH
LOW
CURRENT
CHANGE
VOLUME
Khyber Tobacco Co. Ltd.(XB)
335.00
327.00
335
323
331.33
 -3.67
800
TRANSPORT

SCRIP
LDCP
OPEN
HIGH
LOW
CURRENT
CHANGE
VOLUME
Cordoba Logistics & Ventures Limited
7.75
7.22
7.89
7
7.10
 -.65
21,000
Pak International Airline Corp Ltd
3.99
4.00
4
3.81
3.86
 -.13
745,000
Pakistan Int.Container Terminal.
162.69
162.69
164
162.6
163.48
 .79
15,900
Pakistan Intl. Bulk Terminal Ltd.
5.21
5.29
5.29
5.08
5.13
 -.08
1,113,000
Pakistan National Shipping Co.(XD)
93.75
93.50
94.5
92
93.86
 .11
205,500
VANASPATI & ALLIED INDUSTRIES

SCRIP
LDCP
OPEN
HIGH
LOW
CURRENT
CHANGE
VOLUME
S .S . Oil Mills Ltd.(XD)
78.75
78.00
78
78
78
 -.75
1,000
WOOLLEN

SCRIP
LDCP
OPEN
HIGH
LOW
CURRENT
CHANGE
VOLUME
Bannu Woollen Mills Limited.
24.31
23.50
23.5
23.5
23.50
 -.81
500